Mustangs continue to dominate
EDITOR'S NOTE: Because the look back at each day in Bryant athletic history has been so favorably received during the time when there was no sports during the COVID-19 shutdown, BryantDaily.com will continueposting past stories of Bryant athletics either posted on BryantDaily.com (from 2009 to the present) or published in the Bryant Times (from 1998 to 2008).
By ROB PATRICK
BRYANT TIMES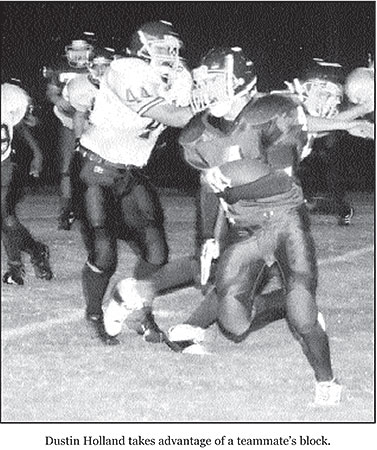 For the record, the Bryant Junior High Mustangs only have one shutout win in their four games this season. They've given up 18 points in those games but only one of those scores came against the first team defense. It was the second quarter of the first game. Since then, the only scoring any of their opponents has done has been late in the game after the Mustangs had it won and the Bryant coaches (and not the oppositions' coaches) were trying to get everybody some playing time.
The same held true on Thursday, Sept. 26, when the Mustangs rolled to a 34-0 lead in three quarters and finished with a 34-6 win over the Morrilton Devil Pups at Bryant Stadium.
The Mustangs thus finish their non-divisional play with a 4-0 record, outscoring their opponents 117-18.
Bryant opens play in the Central Arkansas Conference's South Division on Oct. 3 against the 3-1 Lake Hamilton Junior Wolves. It will be their sternest test to date. And, for once, the Bryant defense may have to play an entire game. Maybe.
Against Morrilton, when the Mustangs went to the bench, the Pups had run 21 offensive plays that netted just 5 yards of total offense. They had not run a single offensive series that went beyond three plays and a punt.
Bryant, on the other hand, scored on its first three possessions of the game and five of the six that the first-team offense participated in.
The Mustangs were just that dominant when it counted.
It had to be fun for John Isabell. A move-in this year from Morrilton, Isabell caught three passes for 65 yards including two for touchdowns against his old teammates. He also returned a punt 18 yards and a kickoff 53 yards, nearly breaking them both for scores. He even played some running back for the first time this season, contributing a 17-yard run.
Quarterback Anthony Mask threw for three touchdowns and ran for another.
The Mustangs' first score came after the defense had halted Morrilton's first drive on a fourth-down play at the Pups' 42. Running back Josh Trezvant was stopped for no gain and Bryant took over.
In six running plays, the Mustangs found paydirt. Zach Kellum's 10-yard burst got the ball to the 2 and, from there, Mask ran it in.
A two-point try failed.
On their next possession, the Devil Pups got within a yard of a first down but a third-down penalty pushed them back then the Mustangs' Aaron Walker, Josh Vocque and Sherief Qassas blasted through to drop quarterback Tyler Stobaugh for a 4-yard loss.
And when the Pups' Bryant Virden dropped back to punt, a fumbled snap resulted in a 7-yard loss.
The Mustangs took over on the 18 and Mask went right to work, finding Isabell for a touchdown on first down.
Dustin Holland run in the two-point conversion with the help of a key block by Vocque.
A fumble ended Morrilton's next series. Qassas recovered at the Pups' 30. Mask passed to Isabell for 9 yards then found Holland on a 21-yard touchdown strike to make it 20-0.
Morrilton managed to get a punt away after three plays on its next try. Isabell's punt return put the Mustangs 39 yards away from another score. But Kellum was stopped on a fourth-and-1 run at the 30 and the Pups took over.
They didn't have it long, though. Their first two plays lost yardage and, moments later, Virden was punting again.
This time, Kellum put together a nice 16-yard return to set up another Mustangs score. Mask passed to Isabell on a curl pattern and Isabell turned it upfield and was never headed on a 38-yard touchdown play with 1:01 left in the half.
It was 28-0 at the half.
Kellum returned the second-half kickoff 60 yards to get Bryant in position to add to the lead. After Mask and Holland teamed up on a 16-yard completion to convert a fourth-and-15, Kellum scored from 9 yards out to make it 34-0.
The first-team defense worked one more series, forcing another turnover (Walker recovered a fumble) and the reserves began to get playing time.
Behind the running of Isabell, Tanner Zuber and back-up quarterback Kyle Pudinas, the Mustangs reached the Morrilton 6 before turning the ball over on downs.
To start the fourth quarter, Morrilton put together its touchdown drive, capped by Trezvant's 61-yard TD run.
Isabell's big kickoff return followed and, behind the running of Brandon Clem, the Mustangs ate up time driving to the 12 before running out of downs with 2:24 left in the game.
Morrilton did little with the final possession beyond running out the clock.