Junior Hornets cruise past North Little Rock
EDITOR'S NOTE: Because the look back at each day in Bryant athletic history has been so favorably received during the time when there was no sports during the COVID-19 shutdown, BryantDaily.com will continueposting past stories of Bryant athletics either posted on BryantDaily.com (from 2009 to the present) or published in the Bryant Times (from 1998 to 2008).
By ROB PATRICK
BRYANT TIMES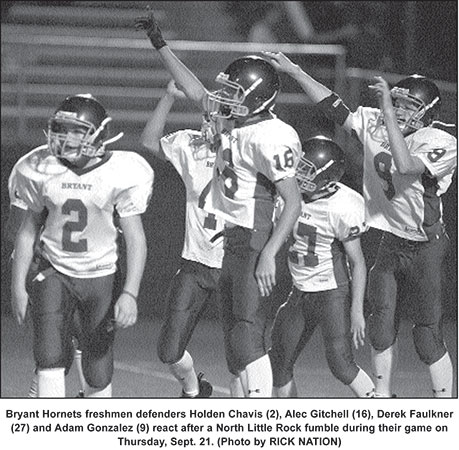 NORTH LITTLE ROCK — How's this for domination:
In the time that the Bryant Hornets freshman team had scored four times in their Central Arkansas Conference South Division game on Thursday, Sept. 27, the North Little Rock Junior Charging Wildcats had managed just four offensive snaps (plus a punt).
The 28-0 lead became 35-0 by halftime and, with the mercy rule in effect in the second half, the Hornets preserved that margin to improve to 4-0-1 overall and 3-0 in the division, overwhelming a team that figured to be among the contenders for a South Division championship.
Head coach Jason Hay acknowledged that it was probably as good a half as he could've hoped for.
"It's 35-0, we had turnovers and it was like everything we called was magic," he said. "That doesn't happen very often. That's not an every-week thing."
The Hornets put the Wildcats on their heels with the very first play and they never recovered.
From their own 20, Bryant deployed in a swinging-gate-like formation with quarterback Blake Davidson behind center Justin Rauch, guard Jordan Murdock and receiver Brian Floyd, and split out to his left, running back Dylan Pritchett was set up behind linemen Ben Seale, Billy Bearden and Steven Lacamu along with receiver Hunter Mayall. With North Little Rock scrambling on defense and before they could call a timeout, Davidson took the snap and threw a lateral to Pritchett. Floyd went deep and Pritchett unloaded a pass that Floyd latched onto with a fine fingertip catch for a play that covered 53 yards.
North Little Rock called a timeout to regroup and the Bryant coaches knew they had the Cats on the run.
On the next play, Davidson threw a swing pass to Tanner Tolbert who picked up key blocks from his fellow receivers Josh Hampton and Hunter Mayall and skated down the sideline for a 27-yard touchdown play.
Davidson would go on to complete 7 of 9 passes for 86 yards and two touchdowns, all in the first half. Five players caught passes. Pritchett would finish the half with 68 yards and three touchdowns on 12 carries.
North Little Rock struggled all night with fielding Jordan Moore's kickoffs. On the first one, the ball got past deep receiver Jeremiah Murphy. He retreated to the 2 to gain control of the ball and only returned to the 13. From there, North Little Rock went three and out with a fumbled snap sabotaging a third-down play. A short punt gave the ball back to Bryant at the Wildcats' 47.
After Davidson completed a short pass to Mayall, Pritchett pounded 12 yards to the 15, then scored from there. A two-point conversion pass from Davidson to Hampton made it 14-0 just two minutes into the game.
And when North Little Rock fumbled the ensuing kickoff, Tyler Freshour recovered for the Hornets just 13 yards away from another score. A play later, however, North Little Rock linebacker Corey Stanton made one of those "where-did-he-come-from" interceptions and returned to the 20.
Back on offense for just their fourth play, the Wildcats managed to pick up a first down as Murphy broke a 16-yard run but the Hornets pried the ball out of his grasp at the end of the run and Chris Joiner recovered.
From the 36, Pritchett and the offensive line pounded to paydirt in six plays. The touchdown run covered the final 7 yards. Bo Stitch's extra point kick made it 21-0.
And, again, North Little Rock couldn't find the handle on the ensuing kickoff. A loose ball at the Wildcats' 24 was pounced on by Bryant's Marcus Harris.
This time, the Hornets went to the air. Davidson completed a short pass to Pritchett then found Floyd who made another nice catch for a 20-yard touchdown pass. Stitch kicked it to 28-0.
Despite more trouble fielding the resulting kickoff, North Little Rock retained possession at its 7 and managed to run some offense. But a holding penalty negated most of a 17-yard run and, a play later, the Hornets blew up a sweep with Mayall tackling Arande Thompson for a loss of 6. A deep pass fell incomplete with Joiner providing good coverage and North Little Rock was forced to punt again.
A very short kick gave the Hornets possession 28 yards away from another score. Davidson hit Mayall for 19 yards and Pritchett scored from the 9. Stitch's kick made it 35-0 with 3:27 still to play in the half.
North Little Rock had run just seven offensive plays to that point.
And they only had two snaps before the Hornets had it again as cornerback James Glasper intercepted a long pass.
Bryant reached the North Little Rock 47 on a pass from Davidson to Hampton but, needing 2 yards for a new set of downs, Pritchett was twice stopped for no gain and the Wildcats took over on downs with :45 left in the half.
Two incomplete passes were followed by a screen pass from Chris Campbell to fullback Zach Ketchens but Bryant's Matt Jones snuffed that play out after a 4-yard pickup and the half ended.
With the clock running unchecked in the second half in accordance with the so-called "sportsmanship rule" North Little Rock managed to hang onto the ball for all of the third quarter, driving from its 29 to the Bryant 24. On the first play of the fourth quarter, the Hornets stopped a quarterback draw for no gain and, on a fourth-and-3, Michael Van Buren and Will Suddeth blew up a sweep for a loss of 4.
The Bryant reserves got off to a bit of a shaky start, fumbling the ball back to the Wildcats at the Hornets 25 but then the reserve defense made a stand. Campbell completed a 22-yard pass to tight end Hunter Earhart but the next play, a run by quarterback Ethan Smith, was stopped for no gain and, on second-and-goal from the 5, the Hornets forced a fumble that Collin Chapdelaine recovered.
The Hornets rooted the ball out to the 9 and punted for the first time in the game with about 1:53 to play. North Little Rock's last shot to score netted no yardage, thanks in part to a nice open-field tackle by Alec Gitchell on the scrambling quarterback Campbell.
Though obviously pleased, Hay was wary of any complacency slipping in.
"We're not guaranteed anything," he stated. "I think we played good but I wasn't real happy with the second half. We had some breakdowns and gave up a few yards. I know we're not perfect but that's what we're aiming to do. Offensively, we had a couple of bad plays and gave it back to them. We don't want to be good, we're looking for great. And great teams finish the game."
Though he added with a smile, "But it's hard to complain when you're up 35-0 at the half."