Rockets' scheme frustrates, but fails to stop Hornets
EDITOR'S NOTE: Because the look back at each day in Bryant athletic history has been so favorably received during the time when there was no sports during the COVID-19 shutdown, BryantDaily.com will continueposting past stories of Bryant athletics either posted on BryantDaily.com (from 2009 to the present) or published in the Bryant Times (from 1998 to 2008).
By ROB PATRICK
BRYANT TIMES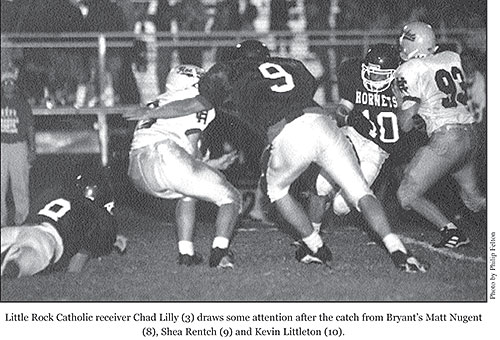 Teams are still searching for the formula to stop the Bryant Hornets.
A week after Sylvan Hills used an unorthodox blitz package to try to thwart the Hornets' offense, Little Rock Catholic used three down linemen and eight defenders deployed to stop the pass.
Sylvan Hills' defense was eviscerated by big plays in a 48-19 loss. Catholic, on the other hand, didn't allow as many big plays, but got ground down by the Hornets' running game. And with special teams and a defense that provided a field-position advantage for Bryant all night, the Hornets sent the Rockets limping home with a 30-7 loss.
Bryant improved to 2-0 with their toughest challenges still ahead beginning this Friday with their final non-conference game against a 2-0 Jacksonville team, the first of three consecutive road games.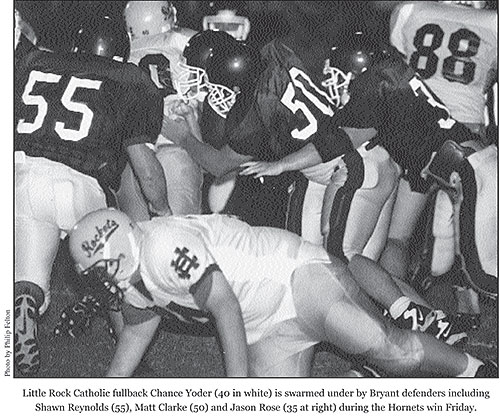 Taking what the defense gives you — the motto of the Bryant offensive coaches — was once again the route to offensive production for the Hornets. Against Sylvan Hills, the passing game was opened up as Bryant receivers were left one-on-one against defensive backs. But the Sylvan Hills blitz wound up thwarting the running game as linebackers filled the running lanes, out-numbering the Bryant blockers. Against Catholic, the aerial opportunities were limited but, on the ground, running back Matt White exploded for 163 yards on just 16 carries.
"We see a little bit of everything, don't we?" commented Bryant head coach Daryl Patton, concerning the Catholic defensive scheme. "One week it's a blitzing scheme, one week we're facing eight people in coverage. And (Catholic) did a good job of disguising stuff too."
Knowing that, in their no-huddle offense, the Hornets call plays in accordance with the way the defense lines up, the Rockets would set up on defense and after the play was signaled in, would shift in hopes of making the coaches' call the wrong one for their final alignment.
"And that shouldn't bother us a lot of times," said Patton, who mentioned that Benton used a similar approach in last year's game (which Bryant won handily 42-7). "(Quarterback) Jeramie (Wooten) was confused a little bit and that's probably my fault. He had receivers open at times and he just didn't throw it."
"Jeramie's going to be okay, though," Patton said. "I was proud of the way he came back on our last drive and took us down the field."
Wooten, after hitting 15-of-19 passes for over 200 yards against Sylvan Hills, was 6-of-13 for 67 yards against the Rockets, who did a good job of keeping the Bryant receivers in front of them.
"We forced some stuff," Patton admitted, "and that's my fault. I got a little impatient and I can't do that, Coach (Paul) Calley (the co-coordinator of the offense) can't do that. We've got to be patient and take what they give us."
And what Catholic gave Bryant was the running game.
"I thought the offensive line did better at times," Patton stated. "We finally ran the football well and you've got to be able to do that. I thought (Josh) Farmer ran the ball hard when he was in there. (Jonathan) Jameson came in at quarterback and ran fairly well."
It's just that the Hornets like to throw the ball.
"We've got to find a way to get the ball to (wide receiver) Matt Brown more," Patton said. Brown, the Hornets' all-time leading receiver, caught just two passes — one, a 6-yard touchdown play — and caught a lateral that picked up 2 yards.
"Our defense bowed up and made some plays," Patton continued. "They gave us some great field position as did our kicking game. I thought Nick Harbert really kicked the ball well, punting and kicking."
It was not a pretty game. In fact, it was disjointed, a game of fits and starts, primarily because of 17 penalties between the two teams and a variety of injuries including a long layoff when Catholic quarterback Mark Ewersmann was tended to after suffering what was thought to be a bruised spine. Ewersmann was taken off the field on a stretcher and transported to the hospital as a precaution. Later in the week, an MRI revealed he suffered a crack in his sixth vertebrae. It is, however, hoped that he will be able to return before the end of the season.
The loss of Ewersmann was a big blow to the Rockets. Though he rushed for only 26 yards and didn't complete any of his six passes, he ran the offense well and led his team impressively. He also attempted and narrowly missed a 49-yard field goal.
Penalties actually contributed to each team's demise on their initial drives. The Hornets were forced to punt but then so were the Rockets only to have Bryant jump offside allowing Catholic to convert a fourth-and-3 at its own 38.
The Rockets reached the Bryant 43 then linebackers Jason Rose and Phillip Primm piled up fullback Chance Yoder. Two incompletions later, Ewersmann was back to punt. But Bryant's Alex Pudinas, who also recovered a fumble and hauled in an interception in the game, blocked the kick and Bryant gained possession on the Rockets' 37.
The Hornets may have struggled offensively in the first three quarters, but they were opportunistic. After the blocked punt, it took five plays to find paydirt. White contributed runs of 22 and 5 yards as well as catching a Wooten pass for another 9 yards. Wooten eventually scored — the first varsity touchdown of his career — on a 1-yard sneak.
Good defensive plays by Trey Phillips, Shawn Reynolds and Rose left Catholic punting again in short order and the Hornets appeared to be on a roll again inside Rockets' territory. But a holding penalty then a fumble by White cost them possession.
But Aaron Johnson and Reynolds sacked Ewersmann and the Rockets could get nothing going again.
The teams traded interceptions. Catholic's Nick Gowen picked off a tipped pass from Wooten but, moments later, Bryant's Matt Nugent came through with an oskie, foiling a trick play in which Catholic tight end Ryan Rutherford took a handoff on a reverse and, after a 180-degree turn, threw deep. Nugent was not fooled. Stride for stride with the receiver, he intercepted at the 4.
But three plays later, Wooten was dropped for a loss and fumbled. Catholic recovered at the 9.
After a bad pitch cost five yards, Ewersmann snaked his way to the 4 where he was pounded to the turf and injured.
When play resumed, Ryan James got to the 1 and, on fourth down, the Rockets attempted an 18-yard field goal without Ewersmann, their primary kicker. Kyle Rogers' kick was no good and the score remained 7-0 at the half.
The teams traded punts through much of the third quarter. Bryant got a break when, on a Catholic kick that hit the turf, a Hornet player was blocked into the bouncing ball. If touched by a player on the receiving team, a punted ball is supposed to be free for anyone to recover and, in this case, Catholic gathered it in. But Bryant was awarded the football because, it was apparently ruled that the Hornet player was purposely knocked into the ball.
Catholic's coaches protested to the point of receiving an unsportsmanlike penalty.
But the Hornets couldn't take advantage. They drove to the 29 before a sack of Jameson then a clipping penalty forced them into a punting situation. Harbert booted the Rockets back to their own 18.
Three plays later, the ball was knocked out of James' hands on a sweep. It popped up into the air and gathered in by Pudinas who rambled down the sideline to the 7.
On the next play, White scored.
And the next Bryant score was set up by a turnover too. In the final seconds of the third quarter, Johnson recovered a Catholic fumble at the Rockets' 19. Due in part to another penalty, the Hornets were only able to advance to the 14 but Harbert came on and drilled a 32-yard field goal to make it 17-0 with 11:01 left in the game.
Behind the passing of sophomore Michael Smith, Catholic responded with its lone touchdown drive, an 80-yard march aided by a pass interference and a defensive holding call.
Bryant answered with its own TD march, despite a clipping penalty that pushed them back to their own 29. Wooten hit B.J. Wood with a 16-yard pass and, a play later, White found a crease up the middle on a delay and raced 46 yards for the score.
The extra point was blocked, leaving it 23-7. Harbert, however, followed the touchdown with his third kickoff into the end zone for a touchback.
Catholic managed 1 yard in three plays and punted back to the Hornets who put the finishing touches on the win with a 53-yard drive, sparked by Farmer's running.
Brown caught his first pass of the night, an 18-yarder to the 11 to set up the score. Three plays later, he made a splendid catch on the TD toss.
Catholic's last gasp ended with 1:24 left when Pudinas made his interception.
It wasn't as easy as the outcome might indicate, Patton allowed. "Like I told the guys, 'We went 11-1 last year. Everybody has got us circled. We're going to get everybody's A game.' Catholic came out fired up, ready to play and we weren't. When that happens, we're going to be in more games like this. We've got to come out prepared each week.
"But, on the other side of it, we didn't play our best and we won for the second week in a row — and that's all that matters — 30-7 and we're tickled to death to be 2-0."