Photos by Kevin Nagle
LITTLE ROCK — Less than 24 hours after defeating Lighthouse Charter Academy in pool play, the[more] Bryant Blue Hornets seventh grade team of Bethel Middle School was back playing the Jacksonville school again in the championship of the Wildcat Shootout and Little Rock Episcopal on Saturday.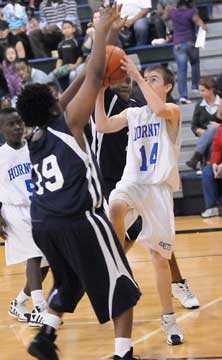 And, while they were able to out-score Lighthouse 48-38 on Friday, they were unable to do it again on Saturday. With a 42-32 win in the rematch, Lighthouse won the Shootout championship. In the process, they handed the Hornets their first loss of the season in six games.
Lighthouse established a big lead early, building a 17-5 advantage by the end of the first quarter. Bryant Blue rallied in the second period and was within 25-19. And, when the third quarter was over, the difference was just 34-30. But Lighthouse pulled away at the end for the victory.
Calvin Allen led the Hornets with 10 points. Desmond Duckworth added 9, Jeffery Hastings 6, Chase Kincaid 5 and Caylin Allen 2.
The Bethel seventh grade team is scheduled to return to action on Tuesday, Dec. 6 at Cabot North.