Photos courtesy of Cynthia Austin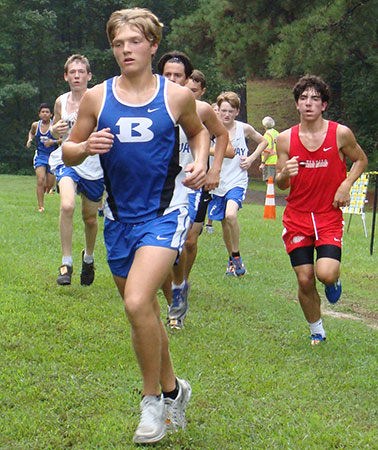 LITTLE ROCK — Bresner Austin finished sixth in a time of 17:27 to lead the Bryant Hornets at the Minuteman Invitational at Western Hills Park on Saturday. As a team, the Hornets placed seventh out of 24 teams with a total of 180 points.
Bryant was without the services of Chris Barrientos, who won last week's OBU Invitational. Barrientos, along with two other senior runners, was taking the ACT test.
The remainder of the Hornet top seven were Hagan Austin (27th in 18:32), Christian Brack (33rd in 18:43), Ethan Saffle (63rd in 19:33), Ethan Ives (71st in 19:42), Blake Shields (74th in 19:43), and Ammon Henderson (93rd in 20:11).
"We knew our team placement would take a hit without Barrientos," acknowledged Bryant head coach Steve Oury. "We probably would have placed third had he been running. Nick Fowler was also taking the ACT and he has the potential to be among our top five.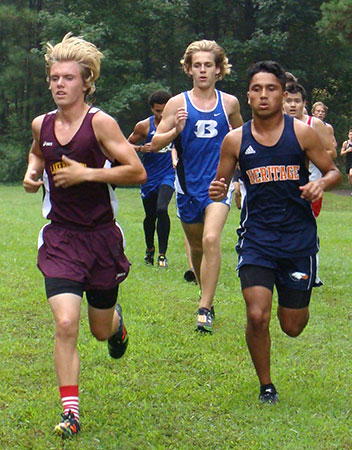 "We had a mixed bag out there," he added. "Bresner Austin did a good job of working his way up into the top 10, while I thought some of our other top runners struggled. Overall, I thought it was a solid effort in tough conditions."
Junior Boys
The Bryant Junior Hornets earned a second-place finish for the second week in a row. The Junior Hornets scored 53 points to place behind team champion Lake Hamilton (27 points). There were 19 complete teams in the Junior division.
Chris Herrera paced the Junior Hornets with a seventh-place finish in a time of 11:43. The rest of the top seven for Bryant were George Terry (8th in 11:44), Alex Skelley (10th in 11:50), Drew MacIntire (13th in 11:58), Jaxon Holt (15th in 12:02), Aidan Russell (29th in 12:31), and Christian Hernandez (33rd in 12:39).
"The junior boys ran a heck of a race," Oury stated. "While Lake Hamilton was again very strong up front, we competed much better with them this week. Our top five runners all placed in the top 15 overall, so it's hard to complain about that.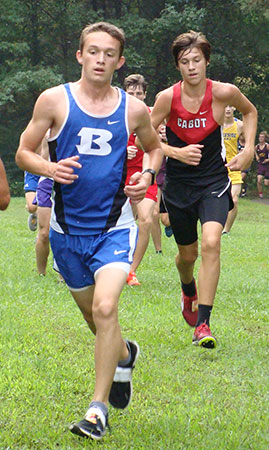 "Coach Denise Smith at Bethel, Coach Deanna Porter at Bryant Middle, and Coach Lisa Dreher at the high school are all doing a great job with our junior high athletes," he mentioned.
Bryant will be off next week in preparation for the annual Chile Pepper Invitational at the University of Arkansas' Agri Park in Fayetteville.