Sox win twice, force winner-take-all State final vs. Texarkana
EDITOR'S NOTE: Because the look back at each day in Bryant athletic history has been so favorably received during the time when there was no sports during the COVID-19 shutdown, BryantDaily.com will continueposting past stories of Bryant athletics either posted on BryantDaily.com (from 2009 to the present) or published in the Bryant Times (from 1998 to 2008).
Photos courtesy of Paul Dotson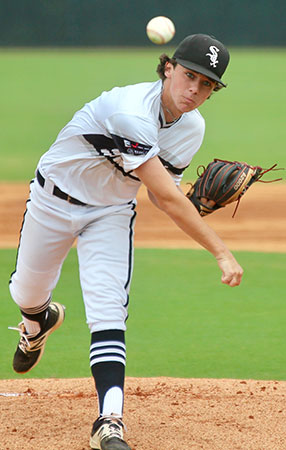 CONWAY — In 2016, it was Texarkana. In 2015 and 2014, it was Bryant. In 2013, Texarkana won it after Bryant had in 2012. In 2011, Texarkana and Bryant went 11 innings to decide it with Texarkana prevailing.
The Senior American Legion State championship will once again be either Bryant or Texarkana in 2017 with the winner advancing to the Mid-South Regional Tournament in New Orleans, starting Wednesday.
The two state powerhouses will meet one final time in 2017 on Sunday at noon in a winner-take-all championship game at Hendrix College's Warrior Field.
The Sox forced the finale with a 13-4 romp over the Razorbacks Saturday afternoon, after they'd rallied past Fort Smith Sportsman, 5-4, earlier in the day.
For many of the Bryant players as well as the coaches, it will finally be the showdown that had been denied them in the Mid-South Regional Tournament a year ago when Bryant and Texarkana were the lone survivors, each with one loss (to the other) in the tourney when rain and a hotly-contested decision by the tournament director resulted in no game. Texarkana was declared Regional champs and went on to win Arkansas' first American Legion World Series championship.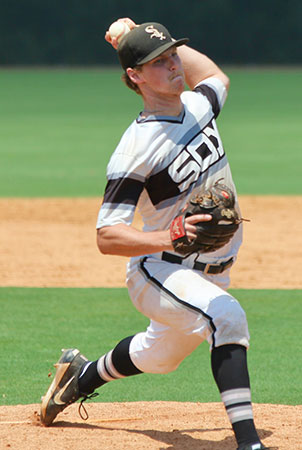 Win or lose on Sunday, the Black Sox will have the satisfaction of actually having the championship be determined on the field.
"After yesterday (Friday's 6-1 loss to Texarkana), we talked to them after the game," said Sox manager Darren Hurt. "There was no panic. We felt like we could still make a run at this thing and now here we are with one game for who goes to New Orleans.
"I love this team and I want it for them, bad," he asserted. "I hope they come out tomorrow and get it done."
On Saturday, pitching proved crucial to the Sox as starters Myers Buck (against Fort Smith) and Aaron Orender (against Texarkana) turned in bulldog-tough performances. Behind Buck, Boston Heil turned in a Houdini performance in the eighth and Beaux Bonvillain closed it out in the ninth with a pair of strikeouts as Fort Smith stranded five over the last two innings. Behind Orender, Logan Allen finished up, protecting the big lead that he helped produce.
"We're looking good for tomorrow pitching-wise," Hurt noted. "We feel like we've got five arms tomorrow that we can go to at any time."
Bryant 5, Fort Smith 4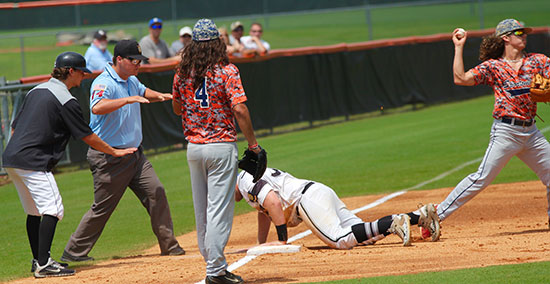 Like Texarkana in the winners' bracket final against Bryant on Friday, Fort Smith had saved its ace, lefty D.J. Reeves, for the Sox, despite narrowly surviving on Friday 13-12 against Paragould in a game that ended with a Paragould player, the potential tying run, being thrown out at the plate on a bang-bang play.
Reeves shackled the Sox over the first five innings on just four hits. He worked around a lead-off single by Allen in the first, base hits from Matthew Sandidge and Scott Schmidt in the second and a one-out knock by Jake East in the third. Reeves then retired eight in a row.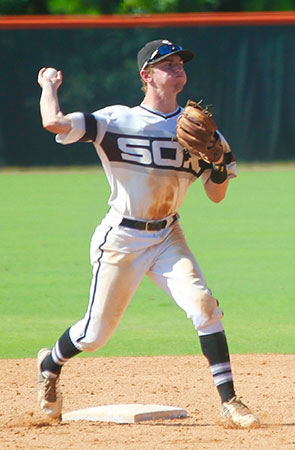 Fort Smith took a 3-0 lead in the bottom of the first. After Buck retired the first two, consecutive hits by Ryan Daggs, Cody Smith, Garrett Carter and Max Frazier produced the runs. The inning ended with Frazier getting thrown out at second trying to take an extra base on a late throw to the plate.
Buck settled in after that. With one out in the second, he surrendered a walk to Jake Smith, a single to Ryan Reeves and an infield hit by Kinner Brasher but he got Brock Thibodeaux to ground into a doubleplay.
In the fourth, the Bryant right-hander overcame a lead-off single by Frasier and, in the fifth, Brasher singled, took second on a balk and third on a groundout. When the balk occurred, Thibodeaux had been hit by the pitch and it took a long discussion to determine if he should be at first or back at the plate. When he returned to the plate with a 2-2 count, Buck struck him out. And, after Daggs grounded out, Buck picked off Brasher to end the inning.
That might've swung the momentum because the Sox followed up with a five-run rally in the top of the sixth. East led off with a single up the middle then, what looked like a doubleplay ball off the bat of Seth Tucker was booted by the sure-handed (and often spectacular) Thibodeaux at short.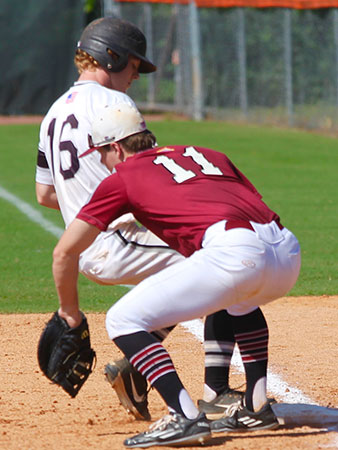 That opened the door. Dylan Hurt doubled in East. Alex Shurtleff singled to bring in Tucker, though Hurt, holding at second to make sure the blooper got down, was thrown out at third.
But that didn't slow the Sox down. Sandidge cracked a base hit to left and, after Orender sacrificed runners to second and third, walks to Schmidt and Jake Wright forced in a run to make it 3-3. Allen capped off the uprising with a two-run single to left, giving Bryant the lead for good.
Cody Smith singled and Carter doubled to greet Buck in the bottom of the inning. But Frazier popped out to first. Jake Melton grounded out as Smith scored then Buck forced the potential tying run to be stranded when he struck out Jake Smith.
In the top of the seventh, Tucker made a bid to add to the lead with a liner to left. When Cody Smith's diving attempt at a catch failed, the ball went to the fence. Tucker flew around the bases for an apparent inside-the-park home run but, on appeal, he was called out for missing third base.
Buck would work around a lead-off single in the seventh but, in the eighth, Daggs singled and Cody Smith doubled to put the potential tying and lead runs in the scoring position with no one out.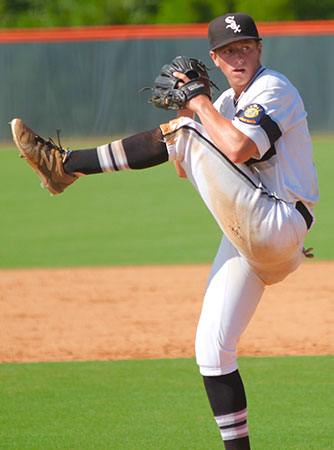 Enter Heil who struck out Carter. After an intentional walk to Frazier loaded the bases, Heil fanned Melton and escaped by inducing a grounder to Schmidt at third off the bat of Jake Smith.
In the ninth, Brasher singled with one out and Thibodeaux walked. With 27 pitches in the book, Heil was three pitches away from not being available if needed in game two with Texarkana or in Sunday's game. Hurt brought on Bonvillain who struck out Daniel DeMondesert and Cody Smith to end the game.
"It started off a little rocky," Hurt acknowledged. "Fort Smith jumped on us in the first but Myers settled in and he threw great. I really felt good. He was scattering his hits. I felt like he was in command most of the time.
"It's been about pitching all summer," he added. "I mean, just guys that we keep going to that get it done. Boston Heil getting us out of the eighth inning was — I mean, it didn't look good for us to come out of there with the lead. Doing what he did was absolutely amazing. Then Beaux closing it out."
Bryant 13, Texarkana 4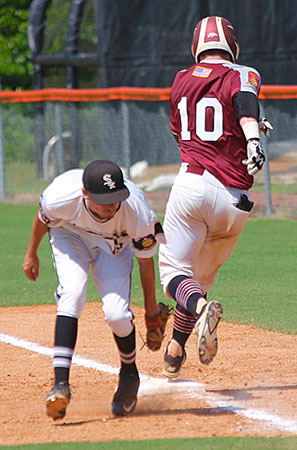 In the second game, it was Bryant that jumped out to a lead, scoring four times in the first and twice more in the second. Texarkana chipped at the lead, cutting it to 6-3 before the Sox put the game away with a two-run sixth and five more in the seventh.
The Razorbacks, usually solid defensively, helped the Sox with six errors. East had three hits in the game, giving him five for the day. Allen had two more and Tucker as well.
"We scored some runs, took a little pressure off our pitchers," Hurt mentioned.
Texarkana stranded 13 runners in the game, due in large part to Orender's ability to pitch out of jams.
"A.O. went through a couple of spurts there where he'd throw four balls in a row or something like that," Hurt noted. "I sent (Will) McEntire to warm up three times. A.O. just kept wanting the ball and, every time Mac would go down there, he'd get a doubleplay ball or something to end the inning.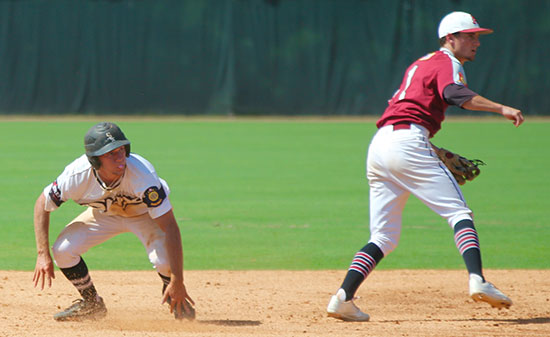 "We almost just sent (McEntire) down there (to the bullpen) for the rest of the game," he chuckled. "He said, 'Every time I go down there, we get a doubleplay.'"
Allen started things with a single up the middle but the next two batters were retired by Texarkana's Kaden Tollett. Dylan Hurt kept the inning alive with a base hit to left then Alex Shurtleff worked a walk to load the bases for Sandidge, who came through with a two-run single. And, after Brandon Hoover walked, Schmidt delivered a two-run knock to make it 4-0.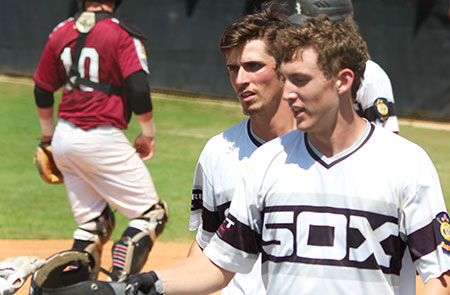 After Orender set down the Hogs in order in the bottom of the inning, East cracked a one-out double and Tucker beat out a bunt single. Hurt got a bunt down as well. First baseman Matt Goodheart charged and threw to the plate but not in time to get East.
An errant throw to third allowed Tucker to pick up that bag. He scored when Shurtleff got a perfect squeeze bunt down, making it 6-0.
Tollett found his stride over the next three innings. His teammates got on the board in the second when John Michael Russ doubled, Beau Burson walked and, after a wild pitch, Cole Boyd singled.
Tyler Moreland was hit by a pitch to load the bases with one out but Orender fanned Logan Vidrine and got Parker Ribble to ground into a force to end the uprising.
The Hogs got two more in the fourth on hits by Boyd, Ribble and Riley Orr but stranded two when Orender got Goodheart to fly out to Allen in center.
It was a three-run margin going into the sixth. A one-out walk to Jake Wright got the Sox going again. With two down, East smacked a hit-and-run single through the open second-base sport. An error on the relay allowed Wright to score as East wound up at third on a second bad throw. Tucker followed with a grounder to short but the throw to first got by and East scored to make it 8-3.
Orender struck out the first two in the bottom of the sixth but consecutive hits by Ribble, Orr and Goodheart plated a run. With two on and two out, Orender got Russ to ground to East at short for a force at second.
Bryant's game-busting seventh started with Shurtleff's single inside the bag at third. Sandidge was struck by a pitch and Texarkana made a pitching change.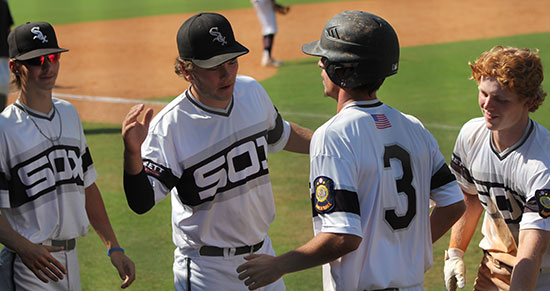 With Austin Stubber on in relief, Shurtleff and Sandidge worked a double steal with an errant throw allowing Shurtleff to score. Logan Chambers, in his first plate appearance in several weeks (due to injury) got a pinch-hit squeeze bunt down to get Sandidge in.
Schmidt walked and, with two down, Allen beat out an infield hit. East reached on another Texarkana error to fill the sacks. Tucker lashed a single, plating two then East scored the final run on a passed ball.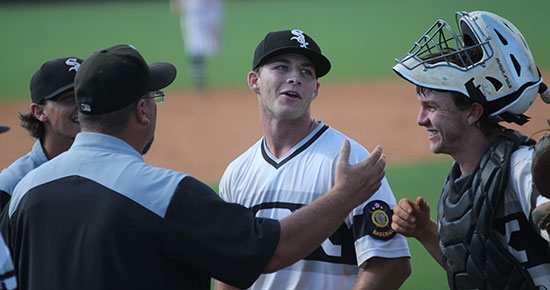 Tucker made it to third and represented the run that would've made it a run-rule lead but was stranded.
In the home seventh, Orender issued a lead-off walk but he got Will Smith to ground into a doubleplay then ended his stint on the mound with a strikeout. His coaches and teammates greeted him as he headed off the field.
Allen worked around a walk and a double in the eighth then finished off around a walk and a hit batsman in the ninth, striking out Moreland to end it.
2017 Senior American Legion State Tournament
At UCA/Hendrix College (HC), Conway
Friday, July 21
Game 1 — Paragould 9, Benton 7 (10 innings) (HC)
Game 2 — Cabot 10, Arkadelphia 5 (UCA)
Game 3 — Bryant 17, Mountain Home 0 (HC)
Game 4 — Russellville 11, Jacksonville 3 (HC)
Game 5 — Texarkana def. Searcy (UCA)
Game 6 — Little Rock 10, Batesville 0 (HC)
Game 7 — Fort Smith 14, El Dorado 1 (UCA)
Game 8 — Conway 7, Sheridan 6 (UCA)
Saturday, July 22
Game 9 — Arkadelphia 11, Benton 6 (UCA)
Game 10 — Mountain Home 7, Jacksonville 1 (HC)
Game 11 — Batesville 10, Searcy 9 (UCA)
Game 12 — Sheridan 10, El Dorado 6 (HC)
Game 13 — Cabot 7, Paragould 5 (12 innings) (UCA)
Game 14 — Bryant 6, Russellville 0 (UCA)
Game 15 — Texarkana 6, Little Rock 5 (HC)
Game 16 — Fort Smith 14, Conway 4 (HC)
Sunday, July 23
Game 17 — Conway 14, Arkadelphia 3 (HC)
Game 18 — Little Rock 13, Mountain Home 10 (UCA)
Game 19 — Russellville 8, Batesville 6 (UCA)
Game 20 — Paragould 3, Sheridan 2 (HC)
Game 21 — Bryant 3, Cabot 1, suspended (HC)
Game 22 — Texarkana 7, Fort Smith 2 (UCA)
Monday, July 24
Game 21 — Bryant 8, Cabot 5 (HC)
Game 23 — Paragould 10, Russellville 0 (HC)
Game 24 — Little Rock 4, Conway 3 (HC)
Thursday, July 27
Game 25 — Cabot 7, Little Rock 3 (HC)
Game 26 — Paragould vs. Fort Smith, ppd., rain (HC)
Friday, July 28
Game 26 — Fort Smith 13, Paragould 12
Game 27 — Texarkana 6, Bryant 1 (HC)
Game 28 — Fort Smith 6, Cabot 3 (HC)
Saturday, July 29
Game 29 — Bryant 5, Fort Smith 4 (HC)
Game 30 — Bryant 13, Texarkana 4 (HC)
Sunday, July 30
Game 31 — Texarkana vs. Bryant, 12 p.m.