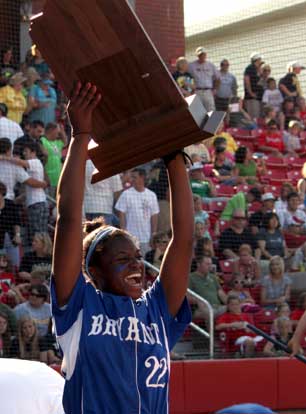 By Rob Patrick
FAYETTEVILLE — So, what did Bryant head coach Debbie Stepp do to follow up the infamous worm-eating episode she used to motivate her Wynne team at last year's State championship?
"I broke the board," she stated, proudly.
Balsa wood?
"No," she insisted. "It was a pine board an inch thick. I've got pictures. I really did it. It wasn't a twig."
And how was breaking a board in line with her usual innovative motivations?
"I had a 10x12x1 pine board," she explained. "We wrote the fears (of the Bryant players) down on one side of the board — what they feared about the game. I told them if we're going to look at those fears, we're going to stop short of our goal. That it's okay to be afraid but we've got to learn to look through the fears, past the fears and to our goal.[more]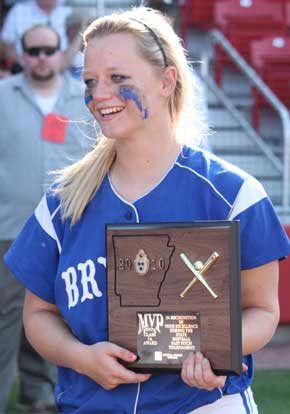 "So I told them I was going to take care of their fears today," Stepp continued. "(Assistant coach) Elliott (Jacobs) held the board for me and I told them, this is for you and when we walk onto that field, you don't have to worry about fearing anything. I looked at his shirt where the Bryant Hornet was and I broke the board in two, and their fears broke in two."
It was an open-hand blow to the pine and it did, indeed, split.
Stepp said she'd only done it once before.
* * *
Though they're just sophomores, shortstop Cassidy Wilson, second baseman Jenna Bruick, first baseman Kayla Sory, left-fielder Ashley Chaloner and, especially, pitcher Peyton Jenkins and catcher Jessie Taylor play like seasoned veterans.
Of course, how many sophomores have played in two Class 7A State championship games in their high school careers already.
Jenkins and Taylor said they've been playing softball together since they were 5 or 6 years old. Taylor calls all the pitches and they rarely disagree. Jenkins said she has nine or 10 different pitches to choose from. She used five of them during Saturday's title game.
After playing that long together, that kind of chemistry is natural.
* * *
With their four home runs and three doubles, the Lady Hornets finish the season as a team with 23 round-trippers and 54 doubles this season.
Jenkins, by the way, improved her record as a pitcher this season to 22-1.
* * *
As most know by now, the championship was the second in as many years for Stepp, who led Wynne, her hometown school, to the title last season before moving to Bryant.
"I'm really humbled," she said. "I was able to win it in 5A at Wynne last year and then in 7A here, going 26-2. I couldn't have written something better than this. I'm extremely humbled. I love Bryant. They have been wonderful to open their arms to me and accept me and my little out-of-the-box thinking and coaching style that I have."
* * *
So how does it feel to be State champion? Senior Shanika Johnson no doubt spoke for all her teammates when she said, "It's amazing. It really is a dream come true."
* * *
Bryant High School not only won a baseball championship and a softball championship but the two teams dominated, outscoring their finals opponents by a whopping 28-4 combined score.