Photos courtesy of Nikki Funk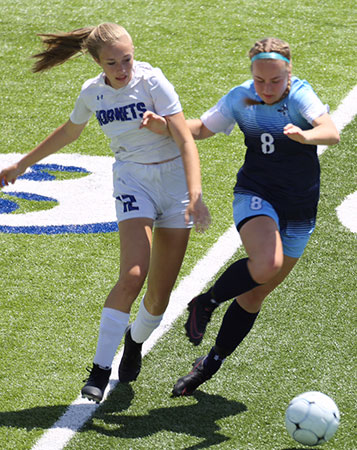 ROGERS — Bryant senior keeper Brittney Warner saved a penalty kick on the last round of a shootout with Springdale Har-Ber's Lady Wildcats and the Lady Hornets advanced to the Class 7A tournament semifinals after battling to a 1-1 draw during regulation and overtime on Friday.
The Lady Hornets, the 2 seed from the 7A-Central Conference, will take on the top seed from the 7A-West, Bentonville in one of the semifinals on Saturday at 10 a.m., with Fort Smith Southside and Rogers battling in the second semifinal at noon.
Ashlyn Thompson, Maddie Humbard, Jilliam Colclasure and Mary Catherine Selig each hit their penalty kicks for Bryant while Alyssa Fason's shot hit the post. Har-Ber matched them then missed one high before Warner sealed the dramatic victory with her save.
"The wind was vicious and definitely made it hard to do what we wanted, or for them to do what they wanted," said Lady Hornets head coach Nicole Inman. "They were physical and we battled the center ref all game along with the wind.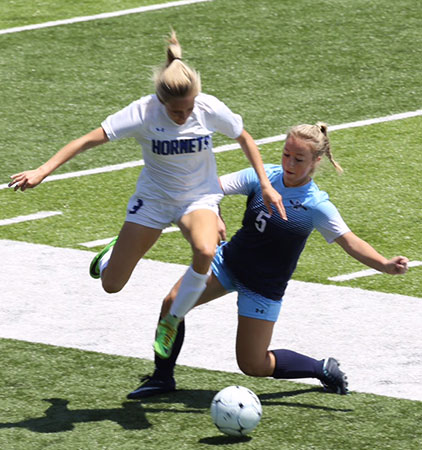 "We probably had better possession," she related. "But we didn't capitalize like we should have."
Bryant, now 16-5 this season, scored its regulation goal with a minute left in the first half. It came on a free kick.
"Rachel (Studdard) took the shot and sent it to the far post," Inman recounted. "And Melinda (Hernandez) got on the end and put it in."
The Lady Hornets made that hole up until, with a minute left in the second half. "There was a foul called and their player hit it right away before we knew what was going on," Inman said. "There was some confusion about whether they needed the ref to blow the whistle or signal to go, but they put it on the net and it went in before we could blink."
Bryant improved to 16-5 with the victory. It's their ninth win in the last 10 matches.
"I'm hoping for less wind and better play tomorrow," Inman stated.