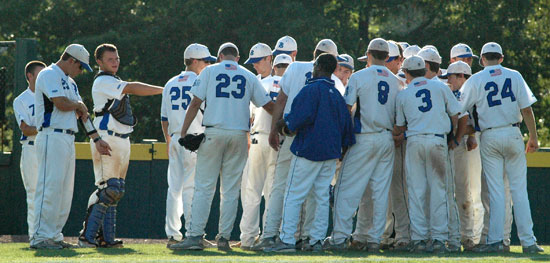 By Rob Patrick
Photos by Kevin Nagle
The Bryant Hornets and the Conway Wampus Cats reversed roles on Tuesday night. In their first meeting[more] this season, at Conway on April 6, the Hornets built an 8-0 lead then had to hold on for an 8-6 win. This time, Conway jumped to a 6-0 lead and led 9-1 at one point. And it was Bryant's turn to rally only to come up short too, absorbing a 9-5 loss that settled the seeding for the 7A-Central Conference for the upcoming State Tournament in North Little Rock.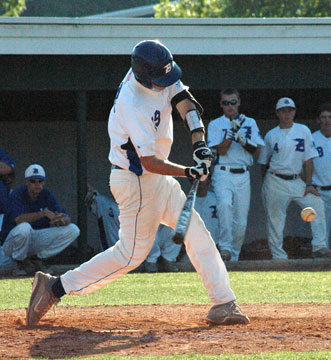 Conway improved to 10-3 in league play with only a home game against Van Buren left to play. The Cats will be the Central's top seed to the Class 7A tourney. The Hornets fell to 8-5 against the conference with a trip to Cabot left on Friday. They'll be the No. 2 seed from the Central to State next week.
Both get first-round byes. Conway will open play on Friday, May 10, at noon. Bryant will play Friday at 2:30 p.m.
The Hornets need a win at Cabot. They're scuffling through a three-game losing streak now. (They're also scheduled to play at Lake Hamilton on Monday, May 7, in a final non-conference contest.)
Conway is generally considered the top hitting team in the Central and they showed it Tuesday. Five of their 11 hits were for extra bases including a three-run homer and a three-run triple in the first two innings.
The Hornets scored in the second, sixth and seventh but didn't get as many as they might have. They left the bases loaded each time.
Trailing 9-1, they got three runs in the sixth. They'd been held to four hits — all in the second inning — to that point. Tyler Nelson slapped a single to left to lead off the inning and Bryant head coach Kirk Bock started starting runners to try to open some holes in the infield. Nelson actually stole second then raced home on a single to right by Jordan Taylor.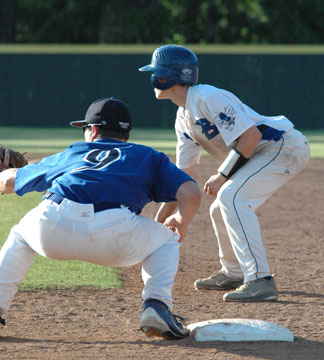 Austin Caldwell, in to run for Taylor, was on the move when Hayden Lessenberry singled just to the right of Jacob Adams, the Conway second baseman, who was moving over to cover the bag. Caldwell raced to third and, with Drew Tipton, in to run for Lessenberry, on the run, Dylan Cross slapped a single through the vacant second-base spot to make it 9-3.
Korey Thompson came on to run for Cross and stole second as Tipton held at third. With one out, pinch-hitter Wes Akers hit a blooper to shallow left that looked like an easy play for Alex Smith, the shortstop. But left-fielder Connor Williams came charging in from left and called Smith off the ball. He wound up having to dive to drive to make the catch and the ball fell in for a hit, driving in Tipton.
Trailing 9-4, the Hornets stayed alive when Trevor Ezell reached on a two-out error by Adams. With the sacks jammed, Blain Jackson came on to pinch-hit for Ozzie Hurt and ripped a liner to right. But the ball stayed up long enough for Kipley Powell to get to for the third out of the inning.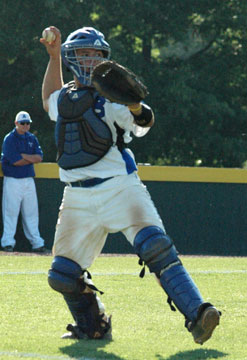 In the seventh, Taylor cracked a one-out single up the middle to get things going again. With two down, Cross was hit by a pitch and Josh Pultro walked to fill the sacks again.
It was Conway starter Connor Prout's first walk of the game and, with 104 pitches in the books, he gave way to Williams, who worked the count to 0-2 on Bryant's Hayden Daniel then hit him with a pitch to force in a run.
But Williams ended it there by striking out Tyler Green.
Conway came out bashing, starting with a triple by Smith on the second pitch of the game. After Adams walked, Tyler Langley blasted a 3-2 pitch from Taylor, the Bryant starter, over the boards in left-center.
Taylor wound up striking out the side around a walk and a two-out double by Williams.
After the Hornets were set down in order in the bottom of the first, Smith got another Wampus Cat uprising started in the top of the second. His one-out single was followed by a double just inside the third-base bag by Adams. Langley was walked intentionally to load the bases, setting up a force at every base. Clean-up hitter Colin Fluesmeier popped out to Hurt at second then Taylor got within a strike of getting out of the jam. But, on his 2-2 delivery, Cody Russell roped a sinking liner to left. Green, playing left, charged in and tried to make a sliding catch but the ball fell in and got by him for the three-run triple, making it 6-0.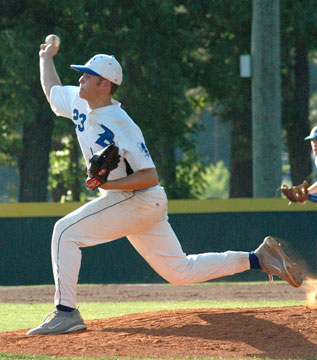 The Hornets made a bid to get back in the game right away. With two down in the home second, Cross yanked a double over Williams' head in left and scored when Pultro lashed a single down the line in right. Daniel beat out an infield hit then Green stroked a liner up the middle for a single to load the bags. But Prout got Ezell to bounce into a force at second to end the inning.
Prout, a right-hander, changed speeds to keep the Hornets' hitters off balance. He also made them put it into play. In 6 2/3 innings, he struck out just two, though he hit a pair of batters to go with the one walk.
After getting the out to end the second, he set down eight in a row before plunking Ezell with two out in the fifth. Ezell swiped second but was stranded when Hurt grounded to short.
Bryant got effective relief from Tryce Schalchlin for three innings. He was greeted by a single by Williams then hit Reid Blaylock with a pitch. But he retired the next eight straight and 10 of the next 11 batters.
With one out in the sixth, however, Adams and Langley singled and Fluesmeier drew a walk to load the bases. A wild pitch allowed Adams to score. Schalchlin retired Russell for the second out but Conway catcher Cody Rhodes, 0-for-3 to that point, ripped a one-hop shot that Hurt couldn't get in front of. Though he got a glove on it with a back-handed attempt, it shot off his mitt and went into center and two runs scored to make it 9-1.
Nate Rutherford came on to strike out Williams to end the inning then fanned the side around an error in the seventh as the Hornets mounted their comeback attempt.
CONWAY 9, BRYANT 5
Wampus Cats ab r h bi Hornets ab r h bi
Smith, ss 5 2 2 0 Ezell, 3b-ss 3 0 0 0
Adams, 2b 4 3 2 0 Hurt, 2b 3 0 0 0
Langley, cf 3 3 2 3 Jackson, ph 1 0 0 0
Fluesmeier, 3b 2 1 0 0 Nelson, ss-lf 4 1 1 0
Russell, dh 4 0 1 3 Taylor, p-3b 4 1 2 1
Rhoades, c 4 0 1 2 Caldwell, pr 0 1 0 0
Crenshaw, cr 0 0 0 0 Lessenberry, c 4 0 1 0
Williams, lf-p 4 0 2 0 Tipton, cr 0 1 0 0
Blaylock, 1b 3 0 1 0 Cross, dh 3 1 2 1
Powell, rf 3 0 0 0 Thompson, pr 0 0 0 0
Prout, p 0 0 0 0 Pultro, 1b 3 0 1 1
Crenshaw, lf 0 0 0 0 Daniel, rf-pr 2 0 1 1
Akers, ph 1 0 1 1
Green, lf-cf 4 0 1 0
Tucker, cf 0 0 0 0
Schalchlin, p 0 0 0 0
Rutherford, p 0 0 0 0
Totals 32 9 11 8 Totals 32 5 10 5
Conway 330 003 0 — 9
BRYANT 010 003 1 — 5
E—Adams, Ezell. LOB—Conway 7, Bryant 10. 2B—Williams, Adams, Cross. 3B—Smith, Russell. HR—Langley. SB—Ezell, Nelson, Thompson. S—Powell.
Pitching ip r er h bb so
Conway
Prout (W) 6.2 5 5 10 1 2
Williams (S) 0.1 0 0 0 0 1
BRYANT
Taylor (L) 2 6 6 6 3 3
Schalchlin 3.2 3 3 5 1 2
Rutherford 1.1 0 0 0 0 4
HBP—Blaylock (by Schalchlin), Ezell, Cross (by Prout), Daniel (by Williams). WP—Schalchlin.