Photos by Rick Nation
In the scramble that is the 7A/6A-Central Conference championship race in boys soccer, the[more] Bryant Hornets took a hit Tuesday night with a 4-1 loss to the Conway Wampus Cats. Though they are by no means out of the running for a share of the league title, they no longer control their own destiny in that regard.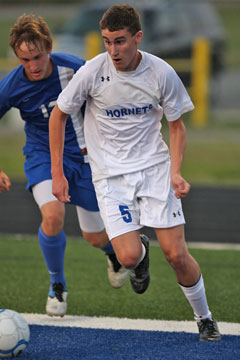 The loss to Conway puts Bryant in a multiple-team tie for second in the league, two games behind league-leading Little Rock Catholic. The Hornets play the Rockets on Thursday then close out the season at Cabot on Friday and at home against winless North Little Rock on Tuesday, May 8. Because Catholic still has matches with Russellville and Little Rock Central (along with Van Buren), there could still be a multiple tie for first place and the scramble for the coveted byes that go to the top two seeds from the league are totally up for grabs.
Conway, among those teams with four losses has swept the Hornets this season so they would have a head-to-head tiebreaker advantage, but with Little Rock Central in the mix (along with Russellville, which is headed to 6A State), nothing is certain. The Hornets and Tigers split; the Tigers swept the Wampus Cats.
Throw Catholic in there and it would probably come down to points.
Actually, depending on how they finish and what the other teams do, the Hornets could still be seeded anywhere from first to sixth for State.
On Tuesday, the Cats hit the Hornets with a three-goal flurry in the first half. The first score came at the 30:35 mark, another at 23:05 and the third was exactly two minutes later.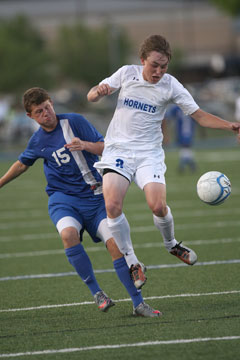 Bryant's lone goal came at the 8:01 mark of the first half when Ryan Watson knocked it past the keeper off an assist from Cameron Furton.
It was 3-1 at the half then the Hornets were unable to cut into the margin in the second half. Conway added an insurance goal early on, less than seven minutes in.
"We just got out-played, out-hustled, and out-coached," stated Hornets coach Jason Hay. "They were ready to play and we weren't. There's no excuses.
"We've got to get back at it and get ready for Thursday," he emphasized. "It's so late in the year right now, we don't have time to sit around and feel sorry for ourselves.
"You've got to give credit to Conway," the coach concluded. "They played a great game. They were ready. They out-possessed us. They did everything right."