For more photos of this event by Kevin Nagle, go here
Xalen Currenton and Dominique Gatson combined for 187 yards rushing and the defense of the Bryant Blue Hornets eighth grade team of Bethel Middle School forced five turnovers in a 22-0 win over the Cabot North Panthers eighth-graders at Bryant Stadium on Thursday night.
The Hornets improved to 2-0 on the season going into their home game against Conway Blue on Thursday, Sept. 27. A B-team game against Sheridan is set for Tuesday, Sept. 11.
The Hornets recovered a fumble on the opening kickoff, a squib kick that Kade Stewart came up with at the Cabot North 43.
But Bryant Blue turned it back over to the Panthers with a fourth-down fumble at the 44.
After the Hornets held Cabot North on four downs, they took over at the 47 only to have Tyler Pinney's pass picked off by the Panthers' Carson Layes.
This time, Cabot North managed to put together a drive to the Bryant 13-yard line only to have quarterback Gavin Moore fumble a snap. The Hornets' Joshua Dinkle recovered.
A play later, Bethel appeared to have the first points of the game when Gatson broke a 78-yard touchdown run. But an illegal block behind the play negated almost half of the run.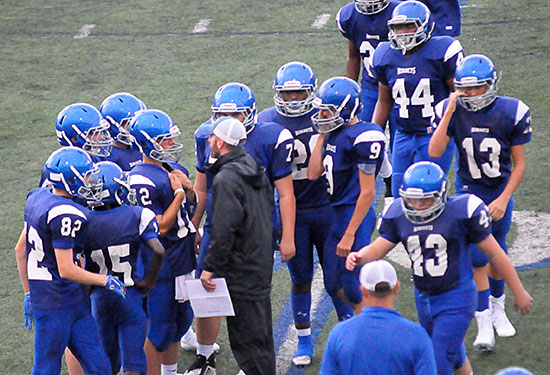 The Hornets wound up turning the ball over on downs at the 38.
But on the third play of the Cabot North possession, another fumble occurred, and Aiden Baker recovered.
This time, the Hornets took advantage. On a fourth-and-3 at the Panthers' 35, Pinney found Joshua Luster behind the Cabot North secondary for a touchdown with 43 seconds left in the first quarter.
Gatson ran in the two-point conversion and it was 8-0.
One more time, Cabot North turned the ball over with :16 showing. Gatson recovered but the Hornets were unable to cash it in with so little time to work with.
But they opened the second half with a 63-yard drive in nine plays. A 24-yard gallop by Currenton keyed the drive early. Later, however, Bryant Blue faced a fourth-and-6 at the 8. Pinney passed to Baker who was forced out of bounds at the 2. That set the stage for Gatson's touchdown run.
Despite a procedure penalty that moved the line of scrimmage back five yards on the two-point conversion try, Gatson powered into the end zone to make it 16-0 with 2:57 left in the third quarter.
Yet another fumble gave Bryant Blue the chance to tack on points late in the game. Gavin Shelby recovered and, on the Hornets' first snap of the possession, Currenton rolled 52 yards to paydirt, setting the final score.