File photo by Kevin Nagle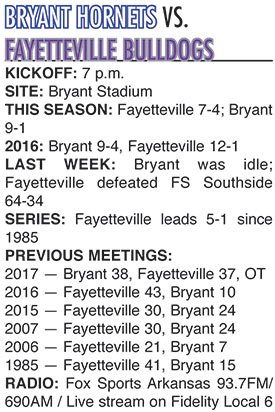 Tonight's Bryant-Fayetteville game will be broadcast at 93.7 FM and 690 AM Fox Sports Arkansas with pre-game at 6:30 p.m., and live streamed by Fidelity Local 6 here.
Who's improved more?
Since the Bryant Hornets edged the Fayetteville Bulldogs 38-37 in overtime at Fayetteville in week 2 of the 2017 Arkansas high school football season, the Bulldogs stumbled three more times (to Dallas Bishop Dunne, Bentonville and Bentonville West, then whisked through the next six games, thumping every opponent except Springdale Har-Ber, whom they defeated 34-28.
Bryant, meanwhile, won 6 of their last seven and, in the lone loss, led at the half.
The Bulldogs' schedule was front loaded while the Hornets' slate was back-loaded. So, did it do Fayetteville more good to roll over the lesser teams in their league down the stretch or did it do Bryant more good to play tougher teams at the end?
And did the first-round bye have a deleterious effect on the Hornets while the Bulldogs stayed on their week-to-week schedule or did the bye give the Hornets a chance to heel and freshen their legs while Fayetteville was getting more banged up?
All of those questions — and, much more important than that, whose season will continue and whose will end? — will be answered tonight when the Hornets host the Bulldogs with a chance to advance to the Class 7A playoff semifinals for the second year in a row and keep their hopes alive for an elusive State title.
The Hornets are 9-1 overall and have won 16 of their last 19 games including a 42-31 victory over the Conway Wampus Cats two weeks ago to wrap up the 2 seed from the 7A-Central Conference. Fayetteville, 7-4, is the defending State champion and has found its stride under first-year head coach Billy Dawson. The six-game win streak vaulted them from the 7A-West cellar and into the 3 seed for the playoffs. Last week, they rolled to a 64-34 win over sixth-seeded Fort Smith Southside, which was still bruised from a week 10 loss to crosstown rival Northside.
Other than that, however, the Central had the better of it in the playoffs last week. Central 3 seed Conway blew out West 6 Rogers, 41-14; Central 4 Cabot ripped West 5 Springdale, 43-21; and, most notably, Central 5 Fort Smith Northside, which was 3-7 during the regular season and 2-5 in league play, dumped West 4 Springdale Har-Ber, 21-9. Har-Ber was the preseason pick to win it all.
Then last night, in the first game of the second round, Conway busted the balloon of West 2 Bentonville West, 48-40.
Bryant coach Buck James will tell you he still hasn't seen his team play a full four quarters this season — no time like the present — and it may take that to beat the Purple Dogs. The week off allowed junior quarterback Ren Hefley a chance to knock the rust off after sitting out since a week 6 shoulder injury. He should be ready for a return.
"He was a little rusty when he came back but he's been able to knock some of that off over the last few days," said James. "It'll be a game-time decision on who starts."
The alternative is sophomore Jake Meaders who has improved every week since taking over against Little Rock Central in week 6 when Hefley broke his collarbone. In the Conway win, he was 20 of 33 for 270 yards and three touchdowns.
Incredibly, both quarterbacks have passed for over 1,000 yards this season, a rare feat.
But it's not just the quarterbacking that makes the Hornets go. It's a tremendous offensive line of Zak Kemp, Logan Burton, Clay McElyea, Preston Kyzer, Joseph Wyllia and Blaise Smith with H-back/tight end Luke Curtis, blocking for 1,000-yard rusher LaTavion Scott and protecting whoever the quarterback may be.
The Hornets also have five receivers with over 20 catches led by Ja'Kalon Pittman with 42 and Brandon Murray with 700 yards on 31 receptions.
Meanwhile, the defense has held opponents to an average of 124 yards rushing and 134 yards passing per game with a front four that includes Kajuan Robinson, Johnny Wallace, Nate Wallace, Catrell Wallace, Bryce Thomas and Austin Bailey, linebackers Antonio Todd, Jake Wright, Brooks Ellis, Allen Coleman, Mike Jones and Jakob Neel, who leads the team with 120 tackles, and a secondary of Rondale Messer, Cameron Vail, Andrew Hayes, Antonio Rice and James Polite.
Fayetteville is led by quarterback Darius Bowers who, through the end of the regular season, had rushed for 214 yards but thrown for 2,821 with 28 touchdowns. He was 24 of 42 for 269 yards and two TDs against Bryant earlier in the season when the Bulldogs rushed for a net of just 10 yards.
The Bulldogs' leading rusher was Nate Nolan with 276 yards on 61 carries but they recently got big Dan Hinton (6-0, 253) back. Receivers Kris Mulinga (79 receptions for 1,178 yards) and Cody Gray (75 receptions for 942 yards) have provided most of the big plays.
Defensively, Fayetteville has allowed an average of 123 yards rushing and 174 yards passing per game. Bryant's 215 yards on the ground was the most the Bulldogs have given up this season. Bentonville West passed for 316 yards, the most the Dogs have given up in the air in a game, in week five.
"Hopefully, our kids understand what's at stake here and will be hungry enough to go after it and play their best football of the year," James said.
"Fayetteville is better at what they do," he assessed. "They're missing some guys that played against us the first time, either from injuries or they were dismissed from the team. They seem more equipped for what they're trying to do and, with the coaching change, understanding the philosophy, what Coach Dawson wants. They're playing their best football of the year, for sure.
"We've got to play four quarters," the coach said. "We've got to keep their two big-time receivers at bay and we've got to score points. Our defense has got to get off the field and we've got to keep our offense on the field as much as possible but we've also got to be productive. We can't have big drives and then not get points.
"This is a one-and-done deal now. Our guys have got to understand they've got to go out there and play relaxed but they've got to do their job, their assignments. They've got to play extremely hard and they've got to be mistake-free."