Photos by Kevin Nagle
Eighth-grader John Winn of Bethel Middle School was the high-point performer with 30.5 points at the Chick-Fil-A Bryant Junior Hornet Relays[more] on Tuesday at Bryant Stadium.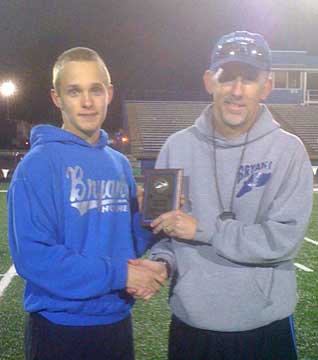 Winn led the Bryant Blue team to a fourth-place finish overall. The Bryant freshman team was fifth with 63 points and the Bryant White of Bryant Middle School was 13th.
Conway White won the boys team title with 95 points, edging Lake Hamilton (93) and Bryant Blue. Fourteen teams competed at the meet.
"We have a lot of talent in Bryant right now," stated Bryant High School boys coach Steve Oury. "It's a shame we can't move some of the eighth graders up at the junior high conference meet, because I think we would have a definite shot to win. Most of the schools we compete against can add eighth graders to the ninth grade team, so we are at a disadvantage in that regard. The middle school coaches are doing a great job of promoting and coaching track and I'm very excited about the future."
Winn won the 200 meter dash (24.06) and 400 meter dash (53.94) and placed second in the 100 meter dash (11.90) to earn the high-point award. He also contributed a leg to Bryant Blue's winning effort in the 4×400 relay, combining with Nick Townsend, Brendon Young and Brushawn Hunter on a 3:53 clocking.
Winning efforts from Bryant athletes included Jordan Jones of the freshman team winning the shot put with a toss of 43-9.5; Tyler Purtle of the freshman team taking top honors in the 1600 meter run in 5:02.64; and Bryant Blue's Young taking the 300 meter hurdles with a time of 46.12.
"I was very pleased with the performances at the relay," commented freshman coach Bart Reynolds. "We have been trying hard to continue to work out even though the weather has been miserable. I think the kids are in pretty good shape considering we have had that as an obstacle to overcome.
"It seems like one year we have a good number of kids running and then other years the numbers are down," he added. "This is a down year as far as numbers are concerned but our kids are training hard and really competed well. I was also very pleased to see the number of eight graders that we have out and running."
Following Winn in the 200, freshman Mikiya Hunter earned points with a fifth-place finish in 25.01. Clark Garland of Bryant White finished 12th in 25.95 while freshman Jonah Lanier was 13th in 26.34 and Bryant White's Rashaan Jones was 15th in 26.80.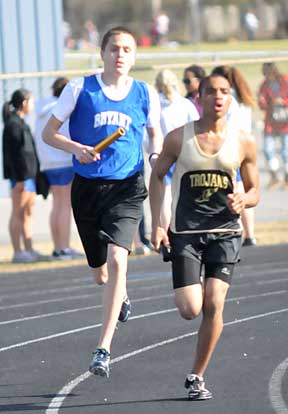 In the 400, freshman Austin Middleton scored with a fourth-place finish (58.01) and Townsend with an eighth-place finish in 59.97. In addition, frosh Marc Reed was 14th (1:01.45) and Steven Murdock was 20th in 1:04.31.
Makiya Hunter was sixth in the 100 with a time of 12.27 with Bryant Blue's Brushawn Hunter finished 16th in 12.57, Mar'Kevius Nelson was 19th in 12.76, and freshman Marcus Seago was 26th in 13.22.
Joining Young in the 300 hurdles were Bryant Blue's Dalton Davis who was fourth in 49.45. Kyle Thompson of Bryant White was 16th in 59.90. Young was third in the 110 hurdles with a time of 17.61 with Davis sixth in 19.73. Bryant White's Dillon Daniels was 10th in 20.38 and teammate J.C. Newborn was 14th in 23.80.
In the field events, the shot put included freshmen Michael Kifer (12th in 33-08) and Darius Jarrett (16th, 31-06) and Lucas Epperson (29th, 19-07). For Bryant White, Caleb McElyea was 15th with a toss of 31-07. Bryant Blue's Clark Garland was 23th (29-10) and Young was 25th (29-02). In addition, Austin Vass (18th, 30-04.5), Buddy Williams (29-11) and Kaleb Wheeler (27th, 24-03) competed in the event.
Jones finished third in the discus with a throw of 103-10. Eighth-grader Rashaan Jones was fourth at 102-02 and Young was sixth at 98-04.5. Bryant Blue's Drew Allen was 15th with a throw of 85-10.5 followed by Jarrett (17th, 81-05), Kifer (79-11), Vass (59-06) and Epperson (26th, 48-01.5).
Makiya Hunter scored for the freshman team in the long jump, finishing fourth with a leap of 17-03. Brushawn Hunter was 12th at 16-07 followed by John Winn (15th, 16-01.25), Bryce Hardin of Bryant Blue (20th, 15-03) and Steven Murdock (26th, 14:03.5).
Newborn scored in the high jump clearing 5-4 to finish fifth. Nelson was 13th (5-0). Brushawn Hunter was fifth in the triple jump (32-11.5) and Bryant Blue teammate Houston Clifton was seventh at 32-8. Hardin of Bryant White was 11th at 30-0.5.
In the pole vault, Bryant White's Justin Combs just missed scoring, taking ninth by clearing 7 feet, 6 inches.
In the distance events, Purtle led a Bryant contingent that included Clifton as well as Dylan Wolf earning points for Bryant Blue. Clifton finished fifth in 5:22.30 and Wolf was sixth in 5:24.33. In addition, frosh Alex Hunt was ninth in 5:34.07 and Bryant White's Cesar Rodarte was 10th in 5:35.11. Freshman Spencer Adami finished 18th (5:49.66) followed by eighth graders Jim Dellorto (19th, 5:50.90), Dillon Daniels (22nd, 5:57.06) and David Perez (24th, 6:02.85).
Purtle was third in the 800 with a time of 2:18.15. Mark Winn was close behind in fifth in a time of 2:24.92. Clifton also scored with an eight-place run of 2:29.48. Bryant White's Dru Wen was 14th in 2:32.26 and Micah Holdman 15th in 2:33.02. Freshman Glen Heathcock finished 22nd with a time of 2:40.40. Perez (26th, 2:44.16), Alec Goss (28th, 2:47.11) and Connor Tatum (30th, 2:54.80) competed in the event as well.
In the relays, along with Bryant Blue's win in the 4×400, the Bryant freshman team was second with Middleton, Reed, Purtle and Makiya Hunter teaming up on a time of 3:59.95. The Bryant White team of Travon Lee, Kyle Thompson, Daniels and Justin Combs was 13th in 4:53.77.
Bryant Blue's quartet of Rodarte, Holdman, Wolf and Mark Winn took fifth in the 4×800 with a time of 9:49.42. The freshman team of Adami, Hunt, Goss and Heathcock took seventh in 10:17.26 while Bryant White's Wen, Dellorto, Perez and Nick Schmidt finished eighth in 10:19.45.
In the 4×100, the freshman group of Seago, Makiya Hunter, Reed finished fifth in 48.02 while Bryant Blue's Young, Garland, Hardin and Brushawn Hunter was eighth in 49.17. The team of Jacob Gorham, Nelson, Tatum and Murdock finished 10th in 55.58.
The Bryant freshman team is scheduled to return to competition on March 31 at Conway.