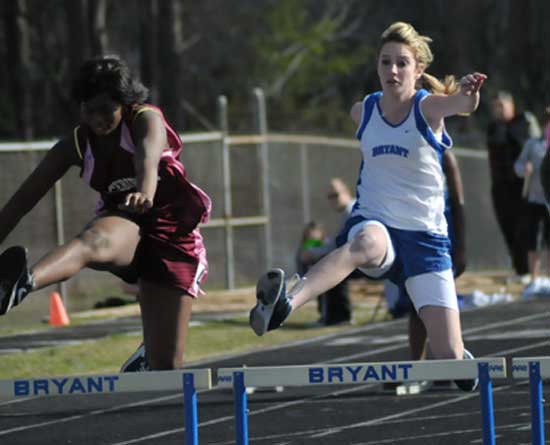 By Rob Patrick
Photos by Kevin Nagle
Bryant freshman Leah Ward won two events while Melinda Murdock and eighth graders Jayla Anderson and Colleen Johnson won[more] individual first-place finishes at the annual Junior Hornet Relays at Bryant Stadium on Tuesday.
In addition, Bryant freshmen won two of the three relays, taking second in the third.
Lake Hamilton won the meet with 154 points. Conway White was second with 90 just edging the Bryant freshman team (88). The Bryant White eighth grade team of Bryant Middle School was fourth with 60.5 points while Bryant Blue's eighth graders of Bethel Middle School were 14th.
Ward won the long jump, covering 16-3, and the triple jump, covering 32-10.5. Teammate Mekaylah Muhammad was second in the triple jump at 30-0.75 and fifth in the long jump at 14-7.75.
Johnson won the high jump by clearing 4-10 while Murdock took top honors in the 300 meter hurdles with a time of 51.83. Anderson's first-place performance came in the 100 hurdles in a time of 17.00.
In the relays, the freshman team including Murdock, Ward, Muhammad and Marley Adams, won in a time of 4:37.80 in the 4×400. The 4×100 quartet of Jazmine Hayes, Ward, Muhammad and Murdock won in 53.66. Mikayla Douglas, Kat Bolton, Sam Macchi and Adams combined on a 11:24 clocking in the 4×800, finishing second.
The Bryant White's 4×800 team of Kaitlin Johnson, Talyn Billins, Lindsey Butler and Caitlyn Bell finished fifth in 11:46.01 while the Bryant Blue squad of Carley Cato, Caroline Cato, Savannah McCrotty and Sarah Caporelli took seventh in 12:05.51.
In the 4×100, Bryant White's Jenna Freeman, Colleen Johnson, Claire Henderson and Anderson finished fifth in 56.61 while the Bryant Blue group of Allison Hughes, Keilyn Lee, Anna Stearns and Nikki Clay finished ninth in 1:02.03.
Bryant White's 4×400 team consisting of Lindsey Butler, Kaitlin Johnson, Billins and Danielle Mashburn clocked in at 5:09.69 to take eight. Victoria Outlaw, Caroline Cato, Hailey Squires and Caporelli combined for Bryant Blue on a 5:17.63 time, which was 10th.
Along with Johnson in the high jump, Anderson was fifth, clearing 4-6. Bryant White's Taylor Lindberg was eight.
Behind Ward and Muhammad in the long jump, freshman Brooke McGinness was 11th at 13.09.25. Mashburn was 16th (12-10), Lindberg was 18th (12-1), tied with Hughes. Stearns was 22nd (11-7) and Bryant White's Scarlet Pense was 28th (10-6).
In the triple jump, Ward and Muhammad were joined by Lindberg (10th, 26-4.25), Stearns (12th, 25-7), Caporelli (14th, 24-2.5) and Carley Cato (17th, 22-9.75).
Henderson led the Bryant contingent in the discus. He throw of 67-10 was good for fourth-place points. Mallory Curry's 67-0 was good for fifth. In addition, Bryant Blue's Devin Hester was 10th at 60-10. Frosh Kaitlin Byrd was 20th at 51-1.5 with Bryant White's Brittney McDonald 24th at 49-1. Freshmen Myah Thompson (46-10.5) and Jayde Bates (37-5.5) were 28th and 29th, respectively.
Curry turned in the top shot put distance among Bryant's competitors. Her throw of 29-2.5 was good for sixth. Henderson also earned a point with an eighth-place toss of 28-11.5. They were followed by Byrd (12th, 25-9.5), Hester (14th, 25-7), McDonald (24-6.5), Thompson (20th, 24-4) and Bates (29th, 21-6).
Behind Anderson's top performance in the 100 hurdles, Murdock was third at 18.35 and Muhammad was eighth in 19.01. McDonald finished 12th in 20.46.
Following Murdock in the 300 hurdles was Muhammad (third, 56.37) and Bryant White's Lindsey Butler (10th, 1:00.36) and Jenna Freeman (12th, 1:03.79).
Anderson also added a third-place finish in the 100 (13.77) and fifth in the 200 (29.49). In the 100, Colleen Johnson added a sixth-place finish in 14.10 followed by Hayes (12th, 14.61), Bryant Blue's Isabella Blummell (15th, 14.77), and Hughes (23rd, 15.74). In the 200, freshmen Brooke McGinnness (30.29) and Hayes (31.58) were 10th and 15th, respectively, followed by Mashburn (16th, 31.70), Stearns (20th, 32.28) and Blummel (21st, 32.31).
Adams turned in a fifth-place finish in the 1600 meter run (5:57.48) and a seventh in the 800 (2:49.03) while Mashburn took eighth to score in the 400 (1:13.53).
Following Adams in the 1600 was Bell who scored with an eighth-place finish in a time of 6:18.25. Macchi was ninth in 6:18.50 followed by Butler (11th, 6:23.49), Caroline Cato (12th, 6:23.86), Douglas (14th, 6:29.53), Rutherford (19th, 6:53.55) and Carley Cato (21st, 6:54.92).
Bell led the rest of the Bryant runners in the 800 as well. She was 11th in 2:53.85. Freshmen Rachel Bacon was 13th in 2:54.98 with Bolton 14th in 2:56.24. Caporelli was 16th in 2:57.99 and Lindberg 18th in 3:01.28. Kaitlin Johnson finished 20th in 3:07.10 with Bryant Blue's Alyssa Cordova 23rd (3:16.38) and Alanna Cordova 27th (3:19.34).
Behind Mashburn in the 400 were Bell (9th, 1:14.06) and freshmen Katlynn Randolph (11th, 1:16.23) and Taylor Curry (13th, 1:16.53). Bryant Blue's Hailey Squires (14th, 1:18.15) and Victoria Outlaw (17th, 1:19.50) competed in the event as well.
The Bryant freshman team returns to action on March 31 at Conway.