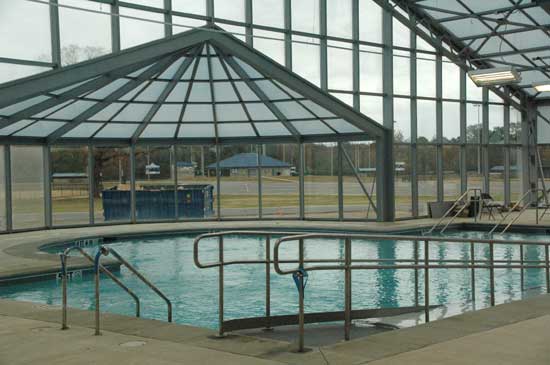 By Martin Couch
On a brief tour of the new aquatics facility on Thursday morning, Bryant Parks and Recreation director Jeremy Lemons and aquatics director Onot Tunot were visibly proud[more] of what is being accomplished.
Although the center is not quite ready for use, it will eventually house the Bryant High School swim team, the Bryant Barracudas Central Arkansas Swim League team and other teams. The indoor facility which includes full dressing and showering rooms for men and women, as well as two conference rooms, a front service area and concessions.
"This is one of three swimming facilities like this in Arkansas," said Tunot, who coaches the Barracudas.
The pool features the proper amount of lanes for competitive swim events including a touch pad at the end of the lane to register the times on a large state-of-the-art scoreboard.
"So far, I've contacted Henderson State and they are going to use this for some of their meets and Benton High School has started a swim team this year and this will be their home pool, too," Tunot added.
On the other side of the center, a jacuzzi pool for seniors is available with an underwater bench around one side and a walkway with stainless steel arm-rails leading into the water. It is also handicap accessible.