Photos courtesy of Scott Dettmer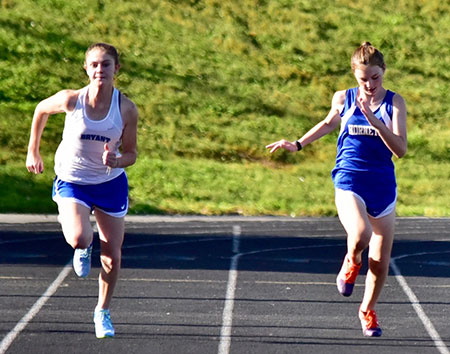 HOT SPRINGS — The Bryant Middle School track teams wrapped up their season on Monday, April 24 with a meet at Lakeside High School.
The Bethel eighth grade girls team accumulated eight first-place finishes in heats or finals while the seventh grade girls recorded seven.
No results were available from the Bryant Middle School team.
"This is a very talented group of athletes," said Denise Smith of the Bethel eighth graders. "The 4×800 team (Khyla Tucker, Mackenzie Moore, Caroline Pelton, and Jillian Colclasure) won first at every meet this season. Maddie Thomas did an outstanding job on hurdles all season. Caroline Pelton ran a great 1600-meter finishing strong at the end passing a Lake Hamilton runner.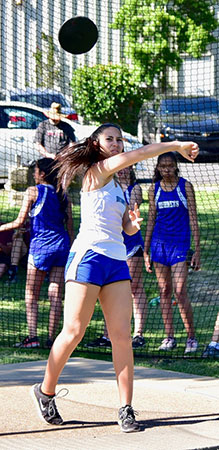 "The 4×100 team (Khyla Tucker, Mallorie Scott-Smith, Shavia Freeman, and Ella Reynolds) also won first place at every meet," she continued. "Jillian Colclasure won her heat in the 300 hurdles then turned around and won 800-meter race. It says a lot about her character to run the 300 hurdles and then 800 and do both of them successfully.
"The 4×400 team (Mallorie Scott-Smith, Shavia Freeman, Khyla Tucker, and Ella Reynolds) also won first at every meet," the coach added. "Khyla Tucker was a member of every relay team and was a huge reason all the relay teams were successful. I can't say enough good things about Ella Reynolds from her leadership skills to her pure talent. She has been a great athlete to coach."
Reynolds won the 100-meter run and Isabella Martinez won the discus. Following Reynolds in the 100 was Mallorie Scott-Smith who was third, Shavia Freeman fifth, Martinez sixth and Ryleigh Laughlin seventh.
Maddie Thomas was second in the 200 with Makayla Shipe third, Madelyn Martin fourth, Mia DeSaussure sixth and Megan Brown seventh.
In the 400, Taylor Clouse was second with Scott-Smith third and Skylar Risk fourth.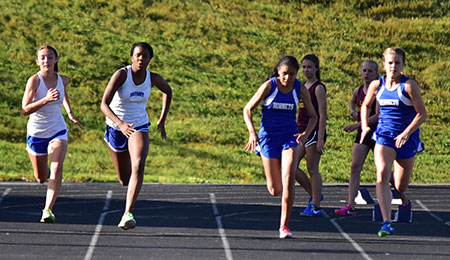 Pelton was second in the 800-meter run with Mackenzie Moore third, Madison Moore fourth and Aryn Stiles fifth. In the 1600, Polet Ocana-Reyes was fourth and Stiles was sixth.
Thomas was second in the 100-meter hurdles and third in the 300. In the 100, Lauren Seyffert was fourth.
Also running in the hurdles was Madison Moore, Ellie O'Gary, Martinez and Stiles in the 4×800; Clouse, Thomas, Risk and Laughlin finishing third in the 4×100; and Risk, Martinez, Clouse and Colclasure taking fourth in the 4×400.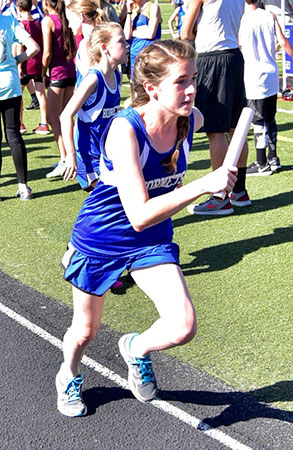 In the field events, Laughlin was second in the long jump and Stiles was fifth. Scott-Smith was third in the triple jump with Tucker fourth.
Freeman finished second in the discus with Shipe fourth, Megan Brown fifth and Ocana-Reyes sixth. In the shot, DeSaussure was fourth and Madelyn Martin seventh.
Of the seventh grade, Coach Smith said, "The girls did a great job at Lakeside especially considering the last two meets were cancelled. Jade Rivers broke her record at Bethel with a throw of 39 feet in the shot put. Lawson Godwin, Alyssa Hood, and Brooklyn Sisco have worked extremely hard all year on hurdles and it paid off in this meet. We had a great race in the 1600 with Maddie Gallagher and Kimberly Hernandez battling for first and second place."
Rivers won the shot as well as the discus. Monica Shifflet won her group in the shot as well. In the discus, Aidean Sutterfield was second, Lana Mears fifth and Kennedy Claypool sixth. Kate Bush finished eighth.

Godwin won her heats in both hurdles races and Hood won her heat of the 100-meter hurdles. Brooklyn Sisco was second. Hood and Sisco were each second in their respective heats in the 300-meters.
Behind Gallagher and Hernandez in the 1600, Marissa Tate finished fourth and Kate Keith eighth. Margo Gilliland was second in the 800-meters with Kim Hernandez third, McKenzie Hicks fourth and Madison Hagan fifth.
Isabella Jackson won the 400 meters. Kaitlyn Loudermilk was third and Olivia McCalister fourth. In the 200, Loudermilk was second as was Erin Ives. Shifflet turned in a seventh-place finish with Avery Caldwell and Lana Mears eighth in their respective heats.
Mai Tran took first in the 100. Claypool was fifth as was Godwin and Caldwell. Aiden Sutterfield finished eighth.
Tran was third in the triple jump and Ives fourth. Caldwell finished fifth in the long jump.
In the relays, the team of Jackson, Hood, Godwin and Gilliland was second in the 4×400. In the 4×100, Tran, Ives, Sutterfield and Sisco took second with Gilliland, Hood, Jackson and Godwin fourth. The 4×800 team of Gallagher, Jackson, Hernandez and Gilliland was second with the quartet of Hicks, Madison Hagan, Tate and McCallister finishing fourth.