Photos by Kevin Nagle
WHITE HALL — Playing a game for the first time in nearly two weeks, the Bryant Blue Hornets seventh grade team of Bethel Middle School had seven players contribute to the scoring in a 36-26 victory over the White Hall Bulldogs seventh graders on Tuesday night.
Tyler McCormick led the way with 9 points. Cairon Allen added 7, L.C. Pitts, Cason Trickey, Layton Baugh and Aiden Lallier 5 each, and Gideon Motes 3. Logan Geissler added a second-half hoop.
"We played a real good team tonight," said Hornets coach Steve Wilson. "I thought our kids looked good for coming off a break. We still need to improve some on shot selection and ball movement."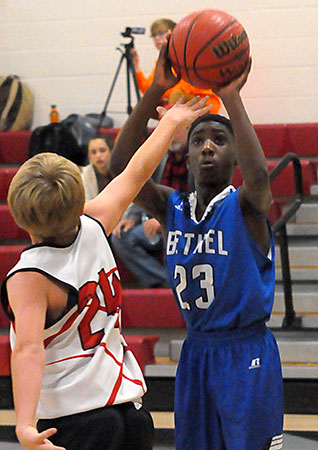 The Hornets trailed 16-14 at the half but held White Hall to just 10 points in the second half as they surged to victory.
The Bryant Blue seventh graders return to action on Tuesday, Dec. 4, when they play at Cabot North.