For more photos of this event by Kevin Nagle, go here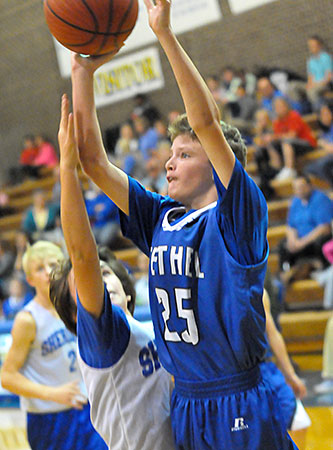 SHERIDAN — Alex Skelley and Aiden Baker each hit a pair of 3's early and James Billingsley scored 7 points in the second half but it wasn't enough to overcome a blitz by the Sheridan Yellowjackets seventh grade team on Tuesday night. The Jackets outscored the Bryant Blue Hornets seventh grade team 32-9 in the second half to forge a 66-25 win at Oliver Williams gym on Tuesday.
Sheridan led 34-16 at the half.
Skelley finished with 8 points in the game with the only other 2 points of the second half with Billingsley's 7. Bickerstaff finished with 6, Aiden Baker 2, Carson Nagle 1 and Destin Jenkins 1.