For more photos of this event by Kevin Nagle, go here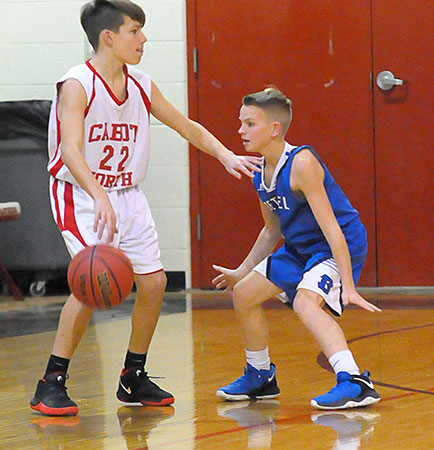 CABOT — The Bryant Blue Hornets seventh grade basketball team of Bethel Middle School improved to 3-1 on the season with a 31-16 win over the Cabot North Panthers on Tuesday night.
Cason Trickey scored 11 points, Cairon Allen 5, Tyler McCormick 4 with Andrew Karp and Gideon Motes adding 2 apiece.
"We made a strong surge late in the second quarter to get up by 11 and then kept it going early in the second half to increase the lead to over 20," said Bethel coach Steve Wilson. "Our defense was strong, but we did have a little trouble scoring in the first period."
The Hornets led 5-1 at the end of the first. The second-quarter outburst produced an 18-7 advantage at the half.
Allen scored all 5 of his points and Trickey had 6 in the third quarter, which ended with the Hornets enjoying a 29-11 advantage.
The Bryant Blue seventh-graders play next on Tuesday, Dec. 11, at home against Lake Hamilton.