Photos by Kevin Nagle
LITTLE ROCK — The Bryant Blue Hornets eighth grade team of Bethel Middle School has played the[more] Episcopal Collegiate Wildcats three times this season. And though the Wildcats have won all three, the Hornets have made it tougher every time including Monday night.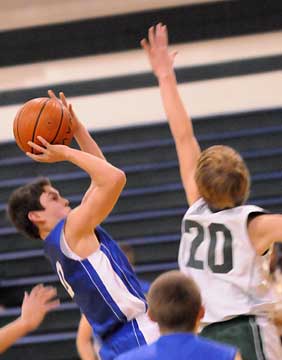 The first time, back in mid-November the Wildcats pinned a 47-19 thumping on the Hornets. The next time the two teams met was in the finals of the Episcopal tournament in early December and the Wildcats edged the Hornets 33-28.O
n Monday, the Hornets cut the final difference down to 4 at 34-30.
"The boys played very hard," commented Bryant Blue coach Derek McGrew. "Free throws hurt us again. We went 3 of 14 from the line. But I'm very proud of their effort. We handled their press very well."
Episcopal staked a 10-8 lead by the end of the first quarter and held a 19-13 edge at the half. It was 28-22 going into the final period.
Logan Allen paced the Hornets with 12 points including three 3-pointers. Jordan Gentry added 7 points, Gunnar Burks 6 and Evan Lee 5.
Now 6-7 on the season, the Hornets will try to bounce back against North Little Rock at Bryant Middle School gym on Monday, Jan. 30.