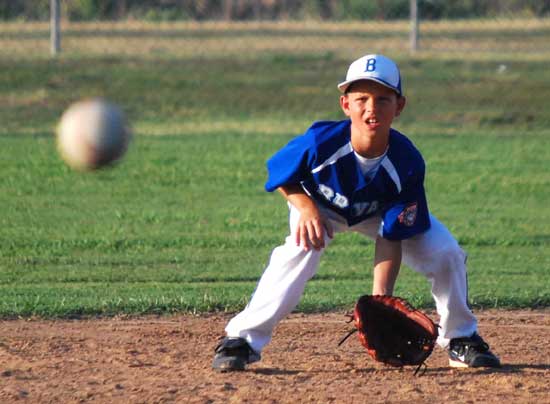 By Madison McEntire
LAKE VILLAGE — The Bryant 10-year-old All-Stars rolled into the finals of the winner's bracket at the[more] 2011 State Tournament in Lake Village with a 16-1 win over Dewitt on Sunday, July 10.
The team members are Logan Catton, Logan Chambers, Logan Grant, Cade Dupree, Nathan McFarland, Coby Greiner, Will McEntire, Ryan Lessenberry, Hunter Mullings, Ty Jackson, Konnor Clontz, Jacob Shepard, Brock Bariloa, and Jacob Coppick. The manager is Michael Catton and the assistant coaches are Phillip Dupree and Madison McEntire.
Bryant jumped out quickly with a four-run first. Catton led off with a grounder to the third baseman but reached first on a poor throw. Grant doubled to center, moving Catton to third. Chambers nubbed a ball softly up the first base line and beat the pitcher's throw to first as Catton scored and Grant went to third. After Chambers stole second, McFarland tripled deep to right-center to score two runs and then scored on a wild pitch with Dupree at the plate. Dupree walked but the next three batters were retired, the last one on a nice grab by the Dewitt shortstop in short left field.
Greiner started on the mound. He walked the first batter on a 3-2 pitch and then got a foul pop to his catcher Lessenberry. Dewitt then scored their lone run when the following batter hammered a long fly to center for a double off the fence. Greiner fanned two of the next three batters and Bryant led 4-1.
Bryant put the game away in the second when they sent 11 to the plate and scored seven times. Greiner started the rally with a fly to center the fell for a single. Catton dropped down a bunt for a single to put two on. With Grant at the plate, three wild pitches moved the runners around the bases to score while he drew a walk. Chambers grounded to first for the first out with Grant taking second on the play. McFarland got hold of another pitch and slammed a long drive to center to a double to bring Grant home. Dupree followed with a long fly to center for another two-bagger that scored McFarland. Lessenberry then lined a ball just inside the first base bag to bring in Dupree. After Mullings walked, Bariola forced him at second with a grounder to the shortstop, which moved Lessenberry to third. After Bariola swiped second, Greiner concluded the scoring with a two-run single to center.
Bryant led 11-1 heading to the bottom of the second where Greiner needed just eight pitches to get two grounders to McFarland at first and a fly to Bariola in right.
In the third, Chambers singled with one out and Coppock, batting for McFarland, singled him to third. McEntire hit for Dupree and singled to left to bring n Chambers with Coppock going to second. Coppock moved to third when Lessenberry's grounder forced McEntire at second and then he scored on a wild pitch. Jackson hit for Mullings and drilled a grounder just inside the fist bas bag for a double to score Lessenberry. Bryant now led 14-1.
McEntire took over for Greiner on the mound in the third and allowed a single to center while retiring the side.
In the top of the fourth, Shepard lined a single to center and scored on Chambers double to right field. Chambers moved to third on a wild pitch and Coppock walked. McEntire's grounder to short forced Coppock at second but brought Chambers home with Bryant's final run.
In the bottom of the fourth, McEntire struck out the first two then allowed two singles before catching the next batter looking at a third strike to end the game.
Next up for the Bryant 10s is a showdown with Little Rock Jr. Deputy at 4:30 p.m. today.