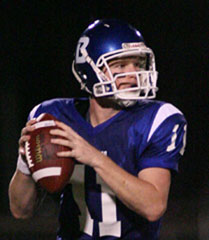 In a tragic accident, Logan Parker, 21, of Bryant was killed when he was struck by oncoming traffic as he crossed I-630 in Litttle Rock late Saturday night.
Parker, the son of Jim and Robyn Parker of Bryant, reportedly was crossing the interstate from north to south near Chester Street around 11:30 p.m. when he was hit by three vehicles.
A 2008 graduate of Bryant High School, Parker was the starting quarterback for the Hornets football team in the fall of 2007, passing for 2,111 yards and 23 touchdowns while leading the team to an 8-2-1 record and a 7A-Central Conference championship.