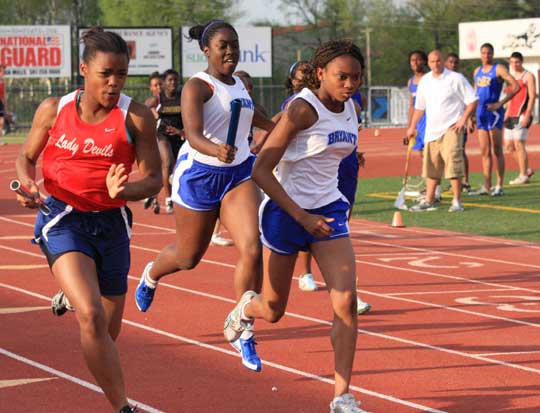 CABOT — The Bryant Lady Hornets took runner-up in the team competition at the Cabot Panther Relays Tuesday night behind a 32-point performance from Morgan Seelinger and a 17-point performance from Jordan Chadwick.
Cabot won the meet with 140 points while Bryant had 130 points. Conway took third with 108 points.[more]
Seelinger won the triple jump with a season-best jump of 34'4". She was second in both the long jump (16'5") and the 300 meter hurdles (48.7). She also took fourth in the 100 meter hurdles with a time of 16.4.
Chadwick won the 300 meter hurdles with a state qualifying time of 47.2. She also finished third in the 100 meter hurdles with a season-best time of 15.4.
Bryant's other first place finish came from the 4 x 800 meter relay team consisting of Kayla Randolph, Skylar Oswalt, Lauren Rogers, and Stacy Emmerling with a time of 10:51.
"I am proud of how our girls competed," stated Lady Hornets head coach Danny Westbrook. "Everyone was a little rusty because of spring break, but we scored 130 points which is better than I expected.
"It looks like it is going to be a showdown with Cabot at the conference meet in two weeks," he added. "We beat them at our meet by one point and they turned around and beat us at their meet by 10 points. They have some tremendous track talent and for us to have a chance against them at conference, we are going to have to find some more ways to score."
The Lady Hornets also got second-place performances from Kayla Davidson in the discus (110-10) and Skylar Oswalt in the 3200 meter run (13:06).
Lauren Magneson was third in the high jump clearing 4-10 while Randolph took third in the 800 at 2:42. Emmerling was third in the 1600 (6:09) and Kaitlyn Nickels finished third in 3200 (13:44).
The 4×400 meter relay team of Bailey Seelinger, Morgan Seelinger, Chadwick and Emmerling combined on a time of 4:25.6 to pick up fourth-place points. In addition, Bailey Seelinger was fourth in the 400 (1:08) and Emmerling in the 800 (2:44). Rogers was fourth in the 1600 (6:23) as well.
Fifth-place points were picked up by Kiana Thomas in the 200 (28.4) and Sara Holt in the pole vault (7-6) with Karlee Porter sixth in the vault (7-6).
Davidson added a sixth-place finish in the shot with a toss of 32-4 while the quartet of Brandi Robinson, Thomas, Morgan Humbard and Jahaira Juarez turned in a sixth in the 4×100 with a time of 55.9.
The Lady Hornets are scheduled to run again on Friday at Lake Hamilton.
Photos courtesy of Carla Thomas.