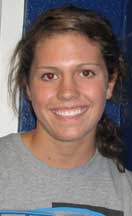 Bryant hurdler Jordan Chadwick has been selected to the 2010 All-Arkansas Academic Team for Track and Field.
The honor is given to student-athletes who have balanced their academic and athletic life with high successes in both. Qualifications for the team include a high grade point average and ACT score and having competed in the state track meet. Chadwick, who will compete for UCA next spring, graduated recently with a final grade point average of 4.04 and an ACT score of 29. She competed at the state meet in both the 100-meter and 300-meter hurdles.
The All-Arkansas team members will be honored at the Arkansas Track and Field Hall of Fame Banquet on June 5 at the Wyndham Hotel in North Little Rock.