Photos courtesy of Julie Shelby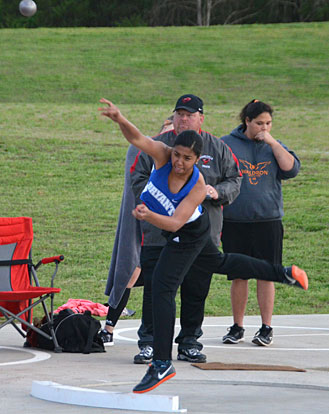 RUSSELLVILLE — With 25 teams competing the point totals weren't quite as high but once again the Conway Lady Cats and Bryant Lady Hornets finished 1-2 in a track and field meet, this one was the Cyclone Relays on Friday. It was the fourth meet of the season that the two teams have done that with Conway finishing just ahead of the Lady Hornets on every occasion.
This time, Conway had 83 points to Bryant's 76. Little Rock Parkview was a distant third with 54 points.
Besides the Lady Cats and Lady Hornets, the meet included Class 7A schools Van Buren, Springdale, North Little Rock, Little rock Central, Cabot, Fort Smith Southside, Mount St. Mary Academy and Fort Smith Northside.
"Another meet and another very close runner-up finish to Conway," acknowledged Lady Hornets coach Danny Westbrook. "We are working hard at shifting people around to try find an answer to their depth. They are a very good track team, but we are so close. I still think we have a very good shot at them at the conference meet."
The Lady Hornets are scheduled to run at Conway on Thursday, April 7, before wrapping up the regular season at the Lake Hamilton Relays on Friday, April 15. The 7A-East/7A-Central Conference meet is Thursday, April 28, at Cabot.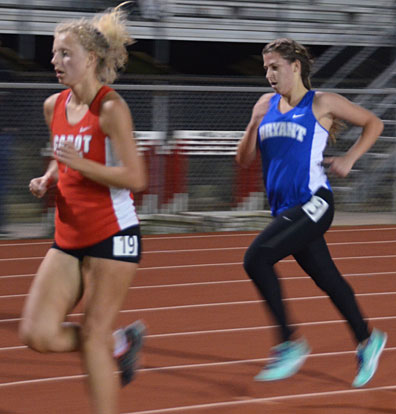 On Friday at Russellville, junior Jadyn Lewis and seniors Haley Hood and Hannah Shelby continued to lead Bryant. Lewis finished with 23.5 points, Hood 22.5 and Shelby 9.5.
Bryant won two events with Hood, who has the best time in the state in the 300-meter hurdles, winning the event again in 46.38. Alma's Martie Shockley was second at 48.51.
The Lady Hornets finished off the meet with a winning performance in the 4×400 relay as well. Amanda Burt, joined Hood, Lewis and Zeia Robinson on a 4:15.45 to edge Conway at 4:16.95.
Shelby was second in the 3200 with a time of 11:56.04, second only to Erin Woodward of Little Rock Christian (11:40.57).
Lewis accumulated points by finishing third in the long jump at 16'0", third in the 400 in 1:00.25, fourth in the 100-meter dash at 12.66, and fifth in the 200 at 26.26.
Hood was third in the 100 hurdles with a time of 16.68 and took fifth in the high jump, clearing 4'10".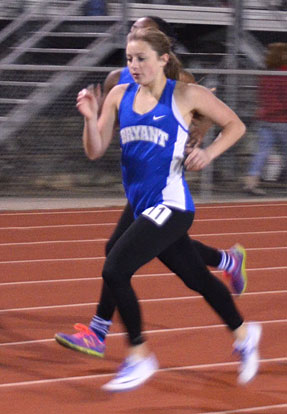 "Jadyn and Haley both had a good meet in a very tough field of competitors," Westbrook said. "Hannah Shelby broke the 12:00 minute mark in the 3200-meter run with a very strong performance.
"Bree Hood had a personal best jump in the pole vault and just continues to get better and better in that event," he added.
She clearned 8'0" in the event while also added a leg to the Lady Hornets' 4×800 relay with Shelby, Lauren Hart and Flora Noble earning third place in 10:55.70.
Westbrook also lauded Kaycee White's work.
"She had an outstanding performance in the discus with a throw over 100 feet," he mentioned.
The throw of 101'7" was good for fifth-place points.
Bryant's 4×100 relay team of Daelyn Young, Ty Foote, Robinson and Burt finished fourth with a time of 52.13 in a loaded field. Foote scored in the 200 with an eighth-place finish in a time of 31.9.