Photos by Kevin Nagle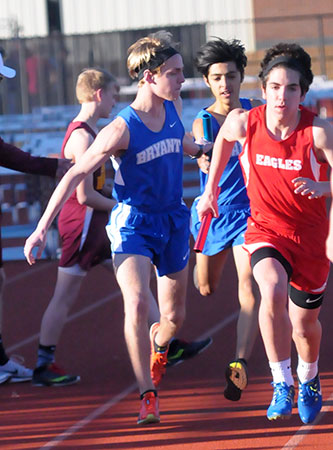 BENTON — The Bryant Hornets freshman track and field team won five events and finished just two points off the pace of the host Benton Panthers at the season-opening McCauley Services Invitational meet on Tuesday.
Benton wound up with 106 points to Bryant's 104. Conway White was third with 99 then there was a drop-off to Lake Hamilton's 67. There were 12 teams competing.
Individual wins were turned in by LeQuav Brumfield, Bresner Austin and Ty Bahnks. The Hornets also won two relays including the meet-closing 4×400. But Benton was second, enough to make the difference in the final team standings.
Brumfield ran a 57.15 to beat out Conway Blue's West Boudreaux in the 400-meter run. Bryant's Sabino Olvera was seventh in 1:01.35.
Austin's win came in the 1600-meter run. His 4:51.34 beat out Conway White's Cade Swindle (4:57.25) with Luis Martinez adding a seventh-place finish for the Hornets.
Banks earned his first-place finish in the long jump, covering 18'10", edging Lake Hamilton's Layne Warrick (18'8"). Bryant's Kyle Shorter also covered 18'8" to finish fourth.
In the 4×800 relay, Hagan Austin, Ammon Henderson, Bresner Austin and Martinez combined on a 9:03.25 to take first over Vilonia (9:25.06). In the 4×400, it was River Gregory, Olvara, Hagan Austin and Henderson winning in 4:13.33 to Benton's 4:18.27.
Banks scored in two other individual events. He was fourth in the triple jump at 35'9" and fourth in the 100-meter dash with a time of 12.50. He also lent a leg to the 4×100 relay team, joining Gregory, Shorter and Miles Aldridge on a 48.76 clocking, which garnered sixth-place points.
Gregory and Shorter finished third and fourth, respectively, in the 200-meter dash. Gregory clocked in at 25.82 with Shorter finishing in 26.57.
Henderson was third in the 800 with Hagan Austin sixth. Henderson's time was 2:17.72; Austin's 2:24.32.
Zach Durbin contributed third-place points in the discus with a fling of 118'07" while, in the shot, Luke Blacklaw was fourth at 42'3" and Jimyle Harris eight at 40'0.
Bryant's next competition will be Monday, March 12, hosting its annual meet at Bryant Stadium.