Hornets pull even with Cats for second in conference with 4-0 victory
EDITOR'S NOTE: In this time of COVID-19, with no sports action, BryantDaily.com will be posting past stories of Bryant athletics either posted on BryantDaily.com (from 2009 to the present) or published in the Bryant Times (from 1998 to 2008).
For more photos from this event by Kevin Nagle, go here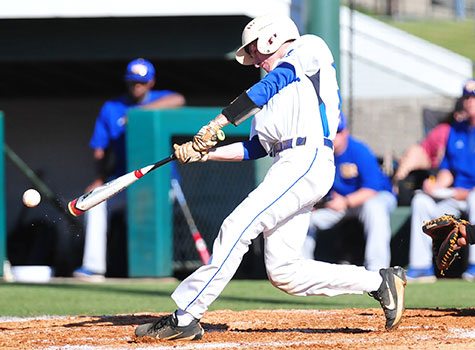 If you think about it, the Cabot Panthers did the Bryant Hornets a favor last week. Not just losing to the Hornets but moving their 7A-Central Conference game up to Thursday instead of Friday.
Hornets ace lefty Beaux Bonvillain threw 97 pitches through seven innings and got the win when the Hornets rallied for two runs in the top of the eighth. Sophomore Will McEntire earned the save with a scoreless home eighth.
But playing on Thursday allowed Bonvillain to get four full days of rest so he could be available on Tuesday in a showdown with the North Little Rock Charging Wildcats on Senior Night at Bryant High School Field.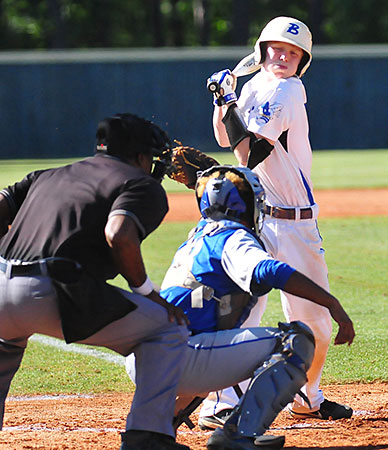 The senior southpaw needed just 81 pitches to shut out the Wildcats on three hits as the Hornets rode a four-run second to victory that forged a tie for second place in the conference with North Little Rock at 10-3 in the league.
The Hornets' slight hopes of capturing a share of the league title ended with Cabot's 8-2 win over Fort Smith Northside on Tuesday but their chances of earning a first-round bye at State by finishing second in the league are still very much alive.
If the Hornets can win Friday at Conway and Cabot can help them again by knocking off North Little Rock that night, it would be theirs — the No. 2 seed to State and a first-round bye. Bryant can be no worse than third after Conway suffered a 3-2 loss to Little Rock Catholic on Tuesday.
That's all for Friday.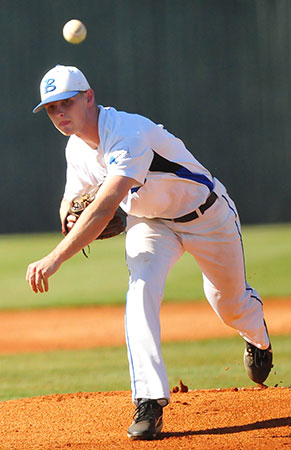 On Tuesday, Bonvillain was stingy. He retired the first eight batters he faced then gave up a scratch hit to North Little Rock's Dezmond Cordova. With Cordova's little brother DeShaun in as a courtesy runner, Bonvillain proceeded to pick him off with North Little Rock lead-off man Zac Freeman waiting an 0-1 pitch.
He pitched around a two-out single to Nick Butler in the fourth, a one-out single to Reed Shepherd in the fifth — the only time the Wildcats got a runner past first. In the seventh, Bonvillain issued his only walk to Butler before retiring the side to close out the win.
He was backed by some sparkling defense. Second baseman Scott Schmidt robbed Shepherd of a hit with a nice back-hand stop in the second. In the sixth, with two down, third sacker Konnor Clontz robbed Chase Freeman of a hit with a dive to his right on which he adjusted to a bad hop. His throw to first was in the dirt but Logan Chambers dug in out in time to retire Freeman.
The Hornets made some noise in the first inning off North Little Rock ace Owen Stuckey. Cameron Coleman had the first of his two hits and Jake Wright walked. They moved to second and third on Chambers' grounder to second then Coby Greiner made a bid for an RBI hit with a line drive that Shepherd speared at third.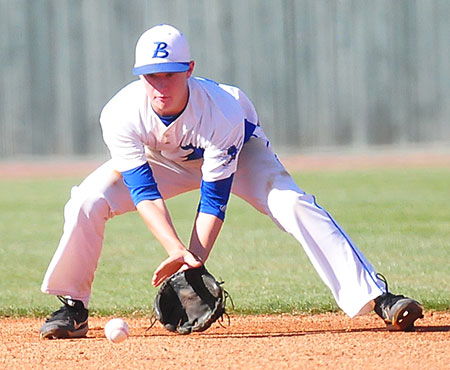 Somewhere along the line, either after running out his fly to right in the top of the second or during warmups for the bottom of the inning, Stuckey apparently felt some discomfort in his right quad. His head coach Brock Moore came out to check with him and Bryant's trainer came out to lend aid if needed.
After a few warm-up tosses, Stuckey decided to continue but the first thing he did in the bottom of the second was walk Schmidt. He got Matthew Sandidge to fly to deep center but then, on a 3-2 count, he plunked Myers Buck on the helmet.
Clontz came up to sacrifice and got a great bunt down between Stuckey and Shepherd at third. Stuckey couldn't get off the mound to get to it and Shepherd held back hoping to get a force on Schmidt at third.
The end result was a bunt single for Clontz that loaded the bases for the top of the Bryant batting order.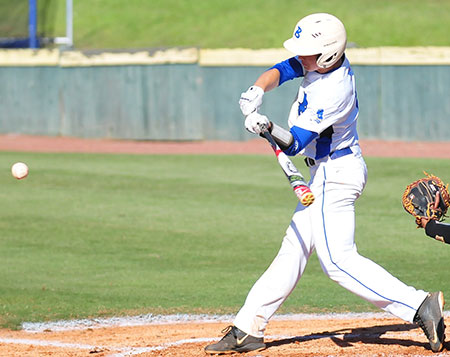 Stuckey gave way at that point to reliever Tucker Sparks, who threw against the Hornets in their previous match-up at Burns Park, a 9-3 win on April 7. He was given all the time he needed to warm up before Seth Tucker came to the plate.
Tucker took a ball then yanked a clutch single to left to drive in the game's first run. Buck started to try to score but slipped as he rounded third and had to come back to the bag. That brought up Coleman who delivered another knock in the clutch, a two-strike shot up the middle for a two-run single to make it 3-0.
Wright followed with a tap back to Sparks, who threw to third for a force. But the relay to first was late as Wright hustled down the line to avoid the inning-ending doubleplay.
That proved fateful when, on a 2-2 delivery, Chambers rifled a liner down the line in right for a double that got Coleman home with the fourth run. Wright tried to score all the way from first but was tagged out at the plate to end the uprising.
The rest was pitching. The Hornets got a runner in scoring position in the fourth when Buck blooped a single to right and Clontz got a bunt down but Sparks retired the next two, turning in his own defensive gem on a bouncer up the middle off Tucker's bat that looked like it might get through for an RBI single.
Sparks pitched around Chambers' one-out single in the fifth then worked through a two-out single by Clontz in the sixth but the damage had been done.
After the game, the Hornets honored their seniors Bonvillain, Coleman, Tucker, Boston Heil, Diego Vargas and manager Noah Easterling.
Bryant is 17-7 on the season and takes a six-game winning streak into Friday's regular-season finale at Conway.