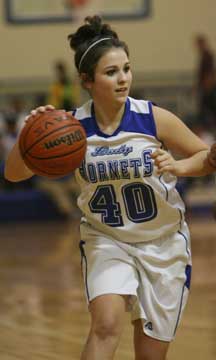 The Bryant Lady Hornets freshman team roared to a 19-2 lead by the end of the first quarter and cruised to a 44-16 win over the Arkadelphia Lady Badgers freshmen on Thursday night.
It was the second win in as many games this season for the Lady Hornets who open play in the Bryant Invitational Tournament on Monday at 6:40 p.m., against Lake Hamilton.
The Bryant freshman boys game with Arkadelphia was cancelled because of Arkadelphia's Class 5A State playoff football game. The Badgers team included freshmen.
The Hornets will play next on Monday against Lake Hamilton as well, starting at around 7:45 p.m.
For the Lady Hornets on Thursday, Logan Davis, Kiara Moore and McKenzie Adams each had 8 points as nine different players contributed to the scoring.
Bryant led 23-7 at the half, 31-11 going into the fourth quarter.
Hayley Murphy pitched in with 6 points, McKenzie Rice and Sarah McPherson 4 each, Lauren Buck 3, Courtney Davidson 2 and Kristen Scarlett hit a free throw.