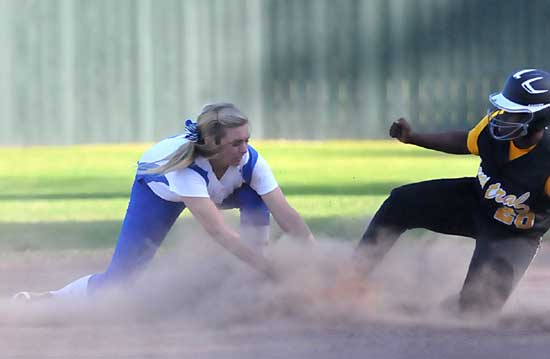 Photos by Valerie Nagle
Jessie Taylor smacked her ninth home run of the season and Peyton Jenkins pitched her 12th[more] shutout as the Bryant Lady Hornets' remarkable unbeaten streak ran to 25 this season and 28 overall with a 10-0 thumping of the Little Rock Central Lady Tigers Thursday night.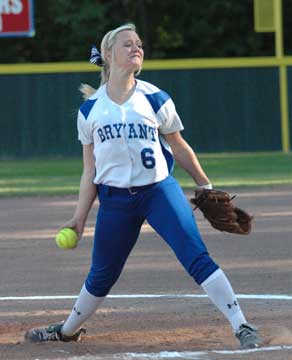 Bryant will try to make it 26-0 this season when they play Mount St. Mary Academy on the road tonight, weather permitting.
Head coach Debbie Clark's "Beasts" were all that against the Lady Tigers. Six of their 10 hits were for extra bases including a double and a triple by Jenkins. Kayla Sory, Carly Yazza and Katie Stillman each had doubles.
Bryant scored in three of its four chances at the plate.
Jenkins, who allowed just three hits without a walk, opened the game with three of her nine strikeouts. She then started her team's two-run home second with the triple, a liner to right. Abby Staton came on as a courtesy runner but didn't have to do much running at all when, on a 1-2 pitch, Taylor launched her round-trip shot to left to make it 2-0.
The Lady Tigers managed their first hit in the top of the second but a grounder to McKenzie Rice at third, a strikeout and a tap back to Jenkins kept it 2-0.
Jenkins pitched around another double, this time with two down, in the third and, in the home half, ignited a five-run uprising with a one-out double past third. With Staton back in to run, Jenkins singled, advancing to second when a throw came in to hold Staton at third. Mercedes Dillard stepped in to run for Taylor and Sory singled to plate Staton.
Again, Sory moved up on the late throw to the plate to set the table for Kaley Coppock who bounced a single up the middle to get them both home. Yazza doubled to bring her around to make it 6-0. And, after Stillman and Rice walked to load the bases, Jenna Bruick drew a free pass for an RBI to cap the inning off.
The Lady Tigers' last hit was a one-out single in the top of the fourth. A groundout and a strikeout followed before Jenkins ended the game with a 1-2-3 inning that including another pair of punch-outs. She snared a liner back at her to end the game.
In the meantime, the Lady Hornets got the three runs that made it a run-rule win in the bottom of the fourth. Taylor walked to start things off and, with Dillard in to run again, Cassidy Wilson grounded into a force. With two down, Coppock walked and Yazza singled in a run.
With runners at second and third, Stillman lashed a double to left to make it 10-0.