Photos by Kevin Nagle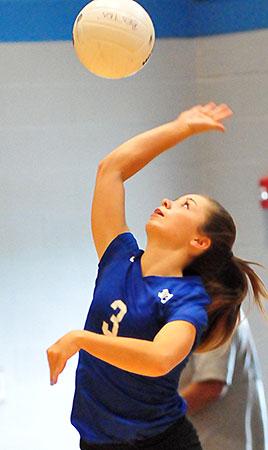 BENTON — The Bryant Lady Hornets volleyball got their first taste of competition on Thursday in a benefit jamboree at the new Benton Boys & Girls Club facility, hosted by the Benton Lady Panthers.
Bryant played games to 25 against Little Rock Christian, Pulaski Academy, Fountain Lake and Benton. Though the Lady Hornets only won one of those games, 25-18 against Little Rock Christian, they were competitive in all of them and head coach Beth Solomon was pleased.
"It's so exciting to get to finally start competitions after a summer full of grinding and working hard," she said. "This first night is always nice to get the jitters out and to play with possible line ups.
"The girls did a good job tonight," she added. "Do we have some things we can take away and work on? Absolutely. That's one of the great things about tonight, that you get to see what needs to be tweaked before conference play starts.
"Tuesday, we head to Lakeside for our first real match. I'm excited to see what our girls put together and accomplish."
The Lady Hornets were good on 92 percent of their serves. Cora Edwards had four aces with Kyla Baker and Lexi Brown adding one apiece.
At the net, returning starter Raven Loveless led with 14 kills. Faith Stone and Truli Bates had six each with Ashlyn Lee contributing five. Kristen Boyle had two kills to go with a block. Bates had two blocks and Stone added one.
Cassie Ray led the team with 11 digs. Erin Thompson had five and Baker three.
Lee contributed a team-high nine assists.