For more photos of this event by Kevin Nagle, go here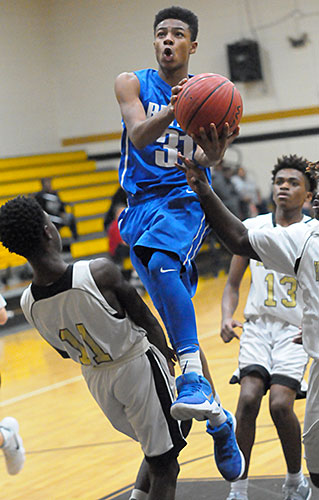 HOT SPRINGS — With a defender in his face, Alvion Harris banked in a 3-pointer at the buzzer as the Hot Springs Trojans eighth grade team pulled out a 40-38 victory over the Bryant Blue Hornets eighth grade team of Bethal Middle School on Tuesday night as both teams concluded their pre-holiday schedule.
In a B game of two 10-minute halves with a running clock, Hot Springs managed an 18-10 win.
"We missed the front end of a one-and-one with six seconds left," noted Bethel coach Steve Wilson. "We almost got the rebound but they drove up the left sideline under pressure the whole way and banked it in off the left wing."
Hot Springs led 10-9 after a quarter and the game was tied at 21 at the half. By the end of the third quarter, the Hornets had pushed ahead 31-29.
Demetrius Sanders led the Blue Hornets with 9 points. Brooks Edmonson added 8, Isaac Devine 7, Zach Foote and Jaylen Williams 6 each. Jefferson Calicott pitched in with a free throw.
In the B game, Calicott had 4 with Lance Kirby, Evan Barrett and Jacob Karp adding 2 each.
Bethel returns to action on Jan. 4 when the Anthony School visits.