Photos courtesy of Scott Dettmer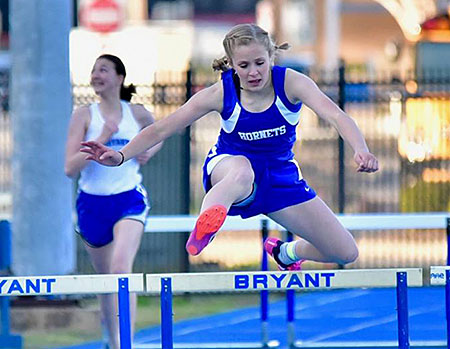 The Bethel Middle School (Bryant Blue) track and field team finished fifth, the Bryant Middle School (Bryant White) team sixth and the Bryant freshman team ninth at the annual Junior Hornets Relays at Bryant Stadium on Monday.
Conway Blue won the team title with 138 points. Cabot North was second with 91 but, if the Bryant scores had been combined (as is the case at the other schools in the meet), Bryant would've been second with 129 points.
As it was, Conway White was third (76) and North Little Rock fourth (63) in the 12-team meet. Bethel finished with 54 points, Bryant Middle 42 and Bryant freshmen 33.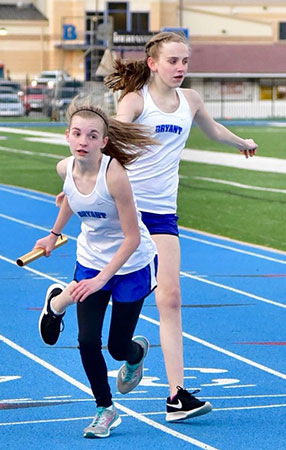 No Bryant athlete won an event but there were five seconds including two relays. In the 4×800, the Bethel team of Caroline Pelton, Isabella Martinez, Ellie O'Gary and Khyla Tucker ran an 11:49.70 for second. The freshman team of Angelly Sanchez-Valentin, Libby Majors, Essence Williams and Sierra Trotter finished third in 12:01.04.
In the 4×100, Bethel's Ella Reynolds, Mallorie Scott-Smith, Tucker and Shavia Freeman took second in 54.33. Bryant Middle's Amya Smith, Chrisanne Powell, Oriel Spikes and Jaiyah Jackson was fourth in 54.65.
Individually, Reynolds was second in the 400-meter run with a time of 1:05.08, while Blue teammate Jillian Colclasure took second in the 1600 with a time of 6:26.24. Bryant White's Sydney Dettmer was fourth in 6:43.07 with Madison Dettmer seventh in 6:45.24. Bethel's Pelton was eighth with a time of 6:45.36.
Bryant Middle picked up second place points in the shot as well. Madelyn Hoskins heave of 32'2" was just off the winning throw of 35'6" by Cabot South's Emily Belin. Bryant freshman Alivia Allen's throw of 31'9.5" took third with Kaitlyn Weng of Bryant Middle fourth with a toss of 30'0" and Bryant freshman Gracie Seyffert fifth at 29'10".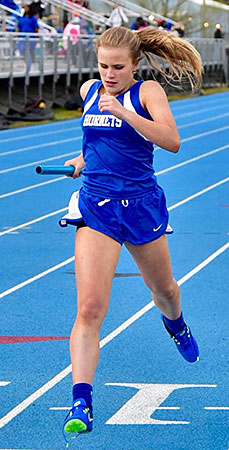 Kristyn Weng was third in the high jump for Bryant White, clearing 4'4". Freshman Camryn Ausbrooks cleared 4'0" to place eighth.
In the discus, Maycee Hobby took third for the freshman team. Her throw was 69'0". Reynolds' toss of 62'0" was good for fifth for Blue.
Spikes added third-place points for Bryant White in the 200. She turned in a 28.59 with Bryant Blue's Freeman fifth in 28.78.
Colclasure was fourth in the 800 (2:54.30) with freshman Dulce Vicente fifth (2:55.65).
Reynolds added a sixth-place finish in the 100, clocking in at 13.77. Bryant Middle's Smith was eighth in 13.87.
The freshman team picked up fifth-place points from Cora Edwards in the pole vault as she cleared 5'6".
Bella Herring turned in a 19.21 to finish sixth in the 100 hurdles for Bryant White. Blue's Maddie Thomas was right on her heels with a time of 19.26.
All three teams scored in the 4×400. The Bethel team of Mallorie Scott-Smith, Skylar Risk, Taylor Clouse and Reynolds was sixth in 4:58.91. The freshman quartet of Kennedy Brown, Oreneish Miller, Ebony White and Tyianna Robinson combined on a 4:59.49 to finish seventh followed in eighth by Bryant Middle's Anna Atwood, Madison Dettmer, Rachael Buck and Sydney Dettmer in 5:05.10.
The two middle school teams will return to competition after spring break, heading to Hot Springs on Monday, March 27, while the freshman team will compete the next day at Lakeside.