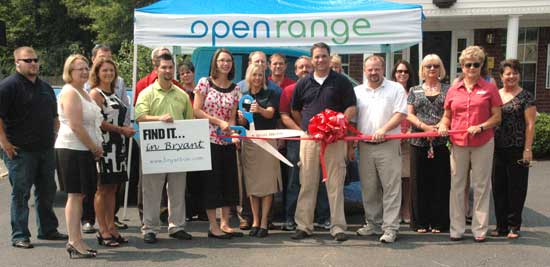 Members of the Bryant Chamber of Commerce joined the management of Open Range Communications for a ribbon-cutting ceremony on Thursday, June 24.
By Martin Couch
Open Range Communications is a broadband wireless Internet services provider whose primary focus is delivering, perfectly simple wireless high-speed Internet. Within the next five years, Open Range intends to serve over 500 communities, making its services available to approximately six million people.[more]
Open Range's 4G wireless broadband network solution will connect customers through licensed spectrum, enabling communities to improve safety, economic growth, education, and quality of life and remain competitive in the age of global communications.
"We are bringing this to 531 rural communities in 17 states over the next three years," said Open Range Communications manager Tommy Russum. "Bryant is one of the first four areas in Arkansas for us. We've invested a lot of time and money in this and we've been looking forward to getting started."
Open Range will also service Hope, Cabot and Stuttgart.
The system works from microwaves off a tower that covers the area. One tower can cover 12 miles just like a cell phone tower. Open Range offers high speed Internet at 3/2 speed and has the capability of going as high as 20/5.
"It's a great product," said Michael McKenzie a 1990 graduate of Bryant High School. "I believe in it and we're going to be here for a long time."
The service is also portable to areas where Open Range is offered.
"If you are going to another market we service, you can bring along your box to another market and get the same type of service," said Shannon Cunningham, sales representative.
Headquartered in Greenwood Village, Colo., the Company announced on Jan. 9, 2009 an investment of $100 million from One Equity Partners (OEP), the private equity arm of JPMorgan Chase & Co. In March 2008, the United States Department of Agriculture's Rural Development Utilities Program (RDUP) approved a $267 million Broadband Access Loan for Open Range, with the prerequisite that private financing also be secured. The OEP investment satisfied the RDUP's loan terms, making the funds available to Open Range.
For more information, contact www.openrange.net or call 1-877-739-0890.