Editor's note: This is a regular feature profiling senior athletes at Bryant High School.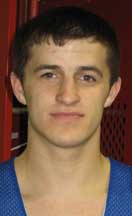 NAME: Brantley Cozart
PARENTS: Sheila Roberts
SIBLINGS: I have a sister, Brittney Cozart. She's 25.
FAVORITE SUBJECT IN SCHOOL: Basketball
FAVORITE SPARE TIME ACTIVITY: Play basketball.
FAVORITE FOOD: Pizza
FAVORITE MUSIC ARTIST OR GROUP: I really don't have one.
FAVORITE MOVIE: GI Joe[more]
FAVORITE TV SHOW: How I Met Your Mother
WHAT WAS YOUR FAVORITE TOY AS A KID? A basketball
WHAT ARE YOUR PLANS AFTER HIGH SCHOOL? To get a sports business degree. I'd like to go to A-State.
OTHER THAN YOUR PARENTS, WHO'S HAD THE BIGGEST INFLUENCE ON YOUR LIFE? HOW? Coach A (Mike Abrahamson). He's just really made me look at life and basketball in a different way and has really been my father figure the last couple of years.
WHAT'S YOUR FAVORITE THING ABOUT BASKETBALL? I've just always loved it. Just the way it's not like a stopping game and how it's never like one team's going to dominate another team. No matter what, somebody's going to win.
POSITION: Point guard
WHAT DO YOU FEEL LIKE YOUR RESPONSIBILITIES ARE? To lead the team and not turn it over.
WHAT DO YOU THINK OF THE SEASON SO FAR? We could be doing better but we've done really good so far, better than we have the last couple of years.
WHEN THE TEAM'S PLAYING WELL, WHAT'S IT DOING? Just moving without stopping and shooting the ball well.
WHAT'S IT GOING TO TAKE FOR THE TEAM TO BE SUCCESSFUL THE REST OF THE SEASON? Not turn the ball over, getting the big man going and just mainly kicking the ball out and shooting the ball well.
TALK ABOUT YOUR GAME NOW; WHAT ARE YOU MOST CONFIDENT IN YOUR ABILITY TO DO? Passing.
WHAT DO YOU WORK HARDEST TO IMPROVE ON IN PRACTICE? My shooting.
WHEN YOU'RE THROUGH PLAYING BASKETBALL AT BRYANT HIGH SCHOOL, WHAT DO YOU THINK YOU'LL LOOK BACK AND REMEMBER MOST FONDLY ABOUT THE EXPERIENCE? Beating Benton twice.