Editor's note: This is a regular feature profiling senior athletes at Bryant High School.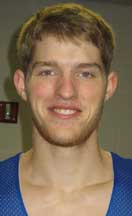 NAME: Quinton Motto
PARENTS: William DeMar Motto and Dana Matthews
SIBLINGS: I have two brothers, Jacob and Brantley, and one sister, Brittney. Jacob's 22, Brantley's 24 and Brittney's 26.
FAVORITE SUBJECT IN SCHOOL: Math
FAVORITE SPARE TIME ACTIVITY: Play basketball, play video games and go four-wheeler riding.
FAVORITE FOOD: Barbecue chicken
FAVORITE MUSIC ARTIST OR GROUP: Jason Aldean, George Strait and Luke Bryan[more]
FAVORITE MOVIE: The Rookie and Sandlot
FAVORITE TV SHOW: As of right now, it's Jersey Shore.
WHAT WAS YOUR FAVORITE TOY AS A KID? My Tonka truck and my BB gun.
WHAT ARE YOUR PLANS AFTER HIGH SCHOOL? Go play baseball for a junior college and take a Business degree.
OTHER THAN YOUR PARENTS, WHO'S HAD THE BIGGEST INFLUENCE ON YOUR LIFE? HOW? Coach A (Mike Abrahamson) and Coach (Kirk) Bock. They've made me grow up a lot and look at things different, to take things in my own hands and do it myself.
WHAT'S YOUR FAVORITE THING ABOUT BASKETBALL? It's a fast-paced game. It's non-stop and you've got to be smart and do everything right or you'll mess up continuously through the game.
POSITION: I'm a post.
WHAT DO YOU FEEL LIKE YOUR RESPONSIBILITIES ARE? Get open inside the paint so we can go in and out, get more 3's open on the outside.
WHAT DO YOU THINK OF THE SEASON SO FAR? We've had our ups and downs. We've been in a little slump but I believe we'll get out of it.
WHEN THE TEAM'S PLAYING WELL, WHAT'S IT DOING? We're moving the ball, talking a lot and getting a lot of rebounds, taking charges.
WHAT'S BEEN THE HIGHLIGHT TO THE SEASON SO FAR? Probably beating Benton twice and the Summit tournament.
WHAT'S IT GOING TO TAKE FOR THE TEAM TO BE SUCCESSFUL THE REST OF THE SEASON? We need to start communicating better, moving the ball and making better passes.
TALK ABOUT YOUR GAME NOW; WHAT ARE YOU MOST CONFIDENT IN YOUR ABILITY TO DO? Go up over people, make my special move I like. It's real comfortable, just a spin around jump shot in the middle of the lane.
WHAT DO YOU WORK HARDEST TO IMPROVE ON IN PRACTICE? My hook shot and kicking it back out.
WHEN YOU'RE THROUGH PLAYING BASKETBALL AT BRYANT HIGH SCHOOL, WHAT DO YOU THINK YOU'LL LOOK BACK AND REMEMBER MOST FONDLY ABOUT THE EXPERIENCE? My team, all my teams I've played with throughout my whole career and a lot of my point guards. I've had a real connection with them.