Editor's note: This is a regular feature profiling senior athletes at Bryant High School.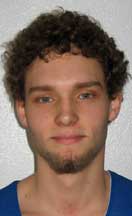 NAME: Houston Garner
PARENTS: Roger and Sheena Garner
SIBLINGS: I have one brother. His name is Destin and he is 24.
FAVORITE SUBJECT IN SCHOOL: I'd probably have to say English
FAVORITE SPARE TIME ACTIVITY: Play music. I play piano and drums
FAVORITE FOOD: Pasta.
FAVORITE MUSIC ARTIST OR GROUP: Third Day
FAVORITE MOVIE: The Matrix
FAVORITE TV SHOW: Spongebob Squarepants
WHAT WAS YOUR FAVORITE TOY AS A KID?[more] Power Rangers.
WHAT ARE YOUR PLANS AFTER HIGH SCHOOL? I plan to go to college, hopefully, the University of Texas and study Law.
OTHER THAN YOUR PARENTS, WHO'S HAD THE BIGGEST INFLUENCE ON YOUR LIFE? HOW? Definitely my brother. We're pretty similar. He did a lot of things that I've done. I look to him. He's a good leader.
WHAT'S YOUR FAVORITE THING ABOUT BASKETBALL? Just being able to compete and having the camaraderie with these guys on the team. It's just so much fun to get out here every day and go to work and push yourself and get better.
POSITION: Forward
WHAT DO YOU FEEL LIKE YOUR RESPONSIBILITIES ARE ON THE FLOOR? Most of the time, offensively, I'm a shooter so when I have an open shot I'm supposed to take it. Defensively, to communicate a lot. I try to be as much of a vocal leader as I can. In the locker room, being a senior this year, just the experience comes in. I try to coach up the guys as much as I can and give them as much advice as I can.
WHAT DO YOU THINK OF THE SEASON SO FAR? I think we're getting better as a team. The season's been hard. We have a tough schedule but there have been games where we've competed really hard and really well that haven't turned out for us in the end but I think we've had a decent season.
WHAT'S BEEN THE HIGHLIGHT TO THE SEASON SO FAR? So far, getting that first conference win. Hopefully, we can get a few more and get into the tournament. Then anything can happen.
WHAT'S IT GOING TO TAKE FOR THE TEAM TO BE SUCCESSFUL THE REST OF THE SEASON? We're definitely going to have to just make sure we're competing every game and not taking any steps back right now. We're playing good basketball. We've just got to communicate on defense, make sure we're doing the little things, getting the first rebound, stuff like that; all the fundamentals, stuff we've been doing since the first of the year.
TALK ABOUT YOUR GAME NOW; WHAT ARE YOU MOST CONFIDENT IN YOUR ABILITY TO DO? I'd have to say the offensive end. I haven't had a ton of points this year but I feel like I can hit some shots for our team.
WHAT DO YOU WORK HARDEST TO IMPROVE ON IN PRACTICE? Definitely defense, I'm trying to keep people in front of me and always know where my man is so I can be a solid defensive player for us.
YOU AND KYLE (NOSSAMAN) HAVE BEEN IN A UNIQUE POSITION HAVING THRE DIFFERENT COACHES IN THREE DIFFERENT YEARS. WHAT'S THAT BEEN LIKE? It's been interesting. I've gotten a lot from it. It is kind of a challenge coming in from year to year having to learn a whole different playbook, defense and offense, different strategy and stuff but I've gotten to see three styles of good basketball. Coach (Ron) Marvel is a Hall of Fame coach and he's got a lot. And this year has been really good. I've really enjoyed playing for Coach Abe (Mike Abrahamson). He works really hard and it kind of rubs off on us. He expects nothing but our best so it's really good because he'll get out there and make sure we're giving effort and push us and really encourage us to work hard and get better.
WHEN YOU'RE THROUGH PLAYING BASKETBALL AT BRYANT HIGH SCHOOL, WHAT DO YOU THINK YOU'LL LOOK BACK AND REMEMBER MOST FONDLY ABOUT THE EXPERIENCE? Just so much fun that I've had out here, playing. Every year, just coming in here. Basketball is such a joy for me. I just love getting to play it. It's been a good time.