For more photos of this event by Kevin Nagle, go here
The Bryant White Hornets seventh grade team of Bryant Middle School blew up a close game against the Bryant Blue Hornets of Bethel Middle School on Thursday night with a 25-2 outburst in the third quarter, on the way to a 50-26 win.
For Bryant White, Kellen Robinson scored 14 points and had five assists. He had 7 during the third quarter including five free throws in as many attempts. T.J. Lindsey scored 11 points and hauled down 10 rebounds.
Trenton Ford added 6 points for White. Gavin Lewis added 4 and Jaeden Wilson 3.
For Bryant Blue, Casen Trickey had 12 points, all in the first half. Cairon Allen added 4 points. James Elrod and Logan Geissler each hit a 3.
"Our boys played really well defensively," said Bryant White coach Richard Wrightner. "We have some things to improve on, but I was really proud of the way we played."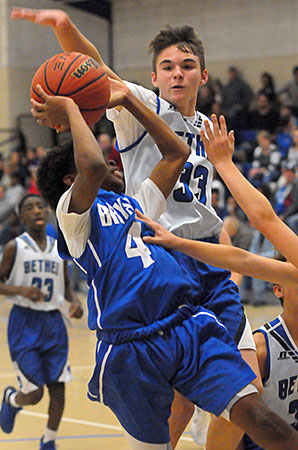 Said Bryant Blue coach Steve Wilson, "I thought we played okay the first half but probably missed some opportunities to take the lead."
Blue led 11-9 at the end of the first quarter but White held a 19-17 edge at the half.
"We got out of sync the second half and never really recovered," Wilson said. "We had trouble adjusting to the officiating and got some key players in foul trouble.
"This group has demonstrated a lot of individual talent, but we need to understand our roles better as a team," he concluded.
Bryant White returns to action on Tuesday, Nov. 27, at Benton. Bryant Blue also plays on Tuesday, Nov. 27, at White Hall.