For more photos of this event by Rick Nation, go here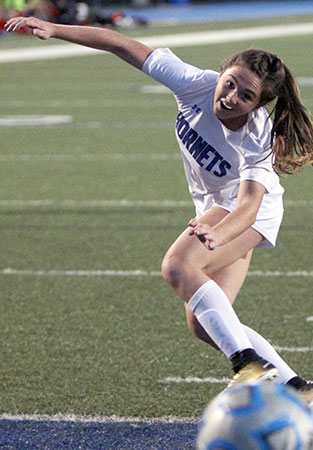 The Bryant Lady Hornets scored three goals in the second half while holding the Fort Smith Northside Lady Bears scoreless until the closing moments of the match to forge a 3-1 victory in 7A-Central Conference action on Thursday night at Bryant Stadium.
Abbie Patton, taking a feed from Melinda Hernandez, scored just over seven minutes into the second half to break up a scoreless contest.
The Lady Hornets maintained that 1-0 edge until, in rapid succession, Ashton Inman found the back of the net at the 9:43 mark off a feed from twin sister Abbey Inman. Then, at 8:06, Hernandez scored unassisted to make it 3-0.
Northside's goal came at the 2:16 mark of the second half. It was the first goal Bryant had given up in in three matches, going five consecutive halves without giving up a goal since a 6-1 debacle at Cabot on April 3.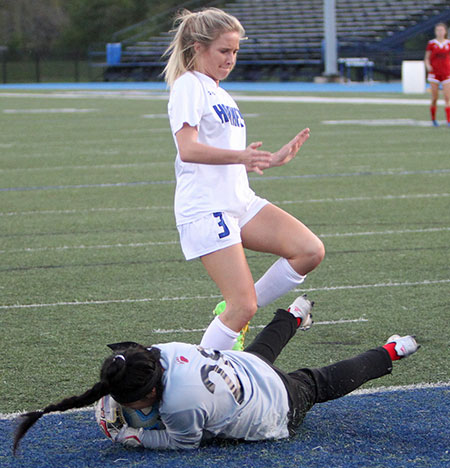 "We struggled a bit with the pace of the ball," said Lady Hornets head coach Nicole Inman. "With Northside playing longer balls, we had to really focus on possession in the transition. We came up with a lot of shots but, not as many dangerous opportunities in their attacking third as I would have liked.
"We gave a few more girls a chance to play to give them some experience and to rest our legs a bit," she noted. "The girls fought hard against an improved Northside team."
The Lady Hornets improved to 10-4 overall and 5-3 in conference play going into a showdown against the Mount St. Mary Belles in Little Rock on Tuesday, April 17.